New Conservatories UK Created For You…
St Helens Windows is a local conservatory company located in the North West area, we offer affordable double glazed new conservatories that are perfect for any property. Furthermore, we are one of the leading UK conservatory companies in Merseyside. Offer double glazed traditional conservatories and modern conservatories that remain a welcome addition to any home. 
The company can create a perfect extension with A-Rated double glazing for your home with a great selection of double glazed conservatories available. With the help of the St Helens Windows team working on every aspect of your extension, you will not be disappointed. At St Helens Windows we offer double glazed conservatories with traditional glass roofs, lightweight tiled roofs or a solid tiled roof. 
Are you looking to buy a new conservatory? Tour our UK conservatory company showroom situated at the main office to see a range of designs available.
Conservatory Projects…
We have completed hundreds of conservatories in the North West region over the past 25 years. Above is a small collection of recent home conservatory projects that we have completed. These images show double glazing projects that we have designed for the customer in Merseyside and the surrounding areas. Just click on any image to see an increased version of our UK conservatories.
Create Your Dream Extension From The Comfort Of Your Home
Book Your FREE Online Appointment Today To Discuss Your Conservatory Ideas.
Choose From A Selection Of Colours…
Our uPVC conservatories are available in a variation of RAL colour options. Furthermore, we offer these multiple colour options for both traditional conservatories and modern conservatories. The following colours give you an idea of just a few colours available for your new conservatory from St Helens Windows.
Benefits To A New Conservatories
All Year Round Conservatory 
Conservatories add that much-needed space to your home. The double-glazed glass holds the heat, plus within the glass, are gases known as Argon gas. Argon gas helps to stop cold air from entering your home. We provide stylish energy-efficient conservatories, choose from a range of conservatory designs that offer various types of double-glazed glass options.
Choose from a variety of roof options for your new conservatory. Including the traditional glass roof, the budget polycarbonate sheets or the contemporary lightweight tiled roof, click here to find out more.
Planning Permission And Building Regulations
Your conservatory may require planning permission, don't worry, we can help with the planning permission process, helping to remove all the hassle but this service involves a fee which depends on your projects requirements. The fees will be shown separately on your final order.
 If you require us to deal with the planning permission or building regulations, please inform our Home Improvements Advisor who will be happy to discuss the details. Our advisers will go through all of your specifications, including planning permissions, local authority approval, and any other necessary regulations. Furthermore, the team will communicate with you throughout the whole project, offering step by step advice. 
Call us on 01744 611 203 and speak with a member of our team.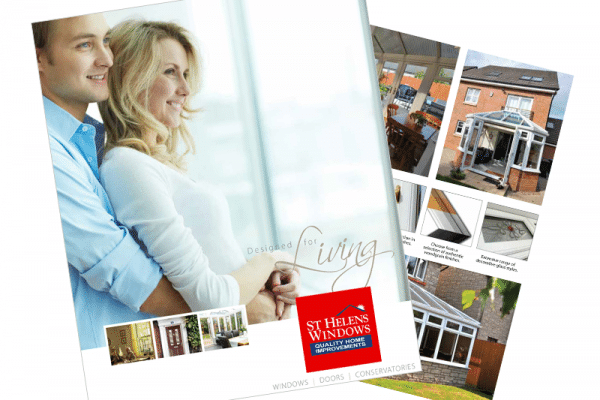 Request Our FREE Conservatory Brochure From The Convenience Of Your Home.
Relax and find your dream conservatory with our comprehensive conservatories brochure. Browse our FREE Conservatory brochure from the comfort of your sofa, illustrating some fantastic conservatories, orangeries and extensions on offer. Pop your name and email here and we'll send you a brochure for free within 24 hours so you can start planning your dream extension.
Conservatory Styles
Beautiful double glazed conservatories create that extra much-needed space. Whether it's for relaxation, entertaining or work. Most house conservatories are tailor-made just for you so whether you are looking for a traditional Victorian house conservatory or a contemporary Lean-to summer room. Our UK conservatories will add value to your home. Create a peaceful space for you and your family to experience all year round.
Amazing Double Glazing Savings - Sale Now On with Up To 30% Off
Get one of the best energy rated and aesthetically pleasing window systems on the market.
Start planning your future project