New Conservatories UK Created For You…
Local conservatory company situated in the North West region,  we offer affordable double glazed conservatories perfect for any home. St Helens Windows is one of the leading conservatory companies in the North West of the UK. We offer double glazed traditional or modern conservatories that are a welcome addition to any home. We create the perfect extension with A-Rated double glazing for you and your home. We have a great selection of double glazed conservatories available and with the help of the St Helens Windows team working on every aspect of your extension, you will not be disappointed.
We offer double glazed conservatories with both traditional glass roofs, lightweight tiled roofs, and solid roofs. Looking to buy a conservatory? Visit our UK conservatory company showroom situated at the main office to see a range of designs available.
Conservatory Projects…
We have completed hundreds of conservatories in the North West region over the past 25 years. Above is a small collection of recent home conservatory projects that we have completed. These images show double glazing projects that we have designed for the customer in Merseyside and the surrounding areas. Just click on any image to see an increased version of our uk conservatories.
Ready To Take the Next Step With Your Dream Extension?
Book Your Appointment Today To Discuss Your Double Glazed Conservatory Project Today…
Choose From A Selection Of Colours…
Our uPVC consevatories are available in a variety of RAL colour options. We offer these multiple colour options for both traditional conservatories and modern conservatories. The following colours give you an idea of just a few colours available from St Helens Windows.
Benefits Of New Conservatories
Use Your Conservatory All Year Round
Our engery efficient double glazed conservatory designs allow you to use your new extension all year round, keeping your extra room warm in the winter and cooler in the summer months. While the inside of the double glazed glass keeps the heat inside your home. Between glass, panes are gas also known as Argon gas. This is to help stop cold air from entering the home, meaning you will save money on energy bills and pay less to warm up your home. We have a variety of conservatories to choose from that are a perfect addition to any home, all offering different types of double glazed glass that can reflect sun rays and help to keep your new conservatory design cool or solid tiled roofs that help to create a more energy efficient room.
Maybe you are looking for a conservatory roof conversion rather than a new conservatory, if so we can help with a new conservatory roof conversion. We have a great selection of solid roof options for a conservatory. To find out more about our solid roof conversions click here to find out more. 
Exceptional Planning And Planning Permissions
We can do all the planning permission for you, helping to take away all the hassle of getting planning permission arranged yourself for your new conservatory or extension ideas. This service includes fees that are usually set depending on your project requirements and will be shown separately on your final order. These can be discussed in further detail with your Home Improvements Advisor or with a member of our team in the office. We go over all of your requirements these include planning permissions, local authority approval, and any other necessary regulations.
We will also keep you informed throughout the entire project, step by step advise will be available. Therefore, you don't have to worry about anything, just sit back and let us take care of all your projects needs .
Built To Fit Around You And Your Home
We can create extensions to fit around you and your home. Offering conservatory garden room extensions, our North West double glazing company manufactures bespoke conservatory extensions with for the best possible fit. House conservatory doors, roofs, windows and other features are tailored to the customers and your properties needs, helping to creating the perfect living space for you and your home. The best thing about our garden rooms and double glazing conservatory suites is that they can be warm in the winter and cool in the summer. Discover today how you can save money on an energy efficient double glazed conservatory. That way, you could pay less to heat your property.
It doesn't have to be a traditional conservatory, as long as it is approved with planning permission, it could be a greenhouse conservatory, garden room, glass extension, an orangery, kitchen extension, lean-to, double glazed garden room, a Victorian conservatory or Edwardian styled UK conservatory built using uPVC frames or even an aluminium conservatory. Furthermore, with our current great savings and offers throughout the company, you could save money on your new conservatory project.
Take the next step to creating a new conservatory for your home, to get an idea on consevatory prices and costs, speak with a member of our Specialist Team on 01744 611 203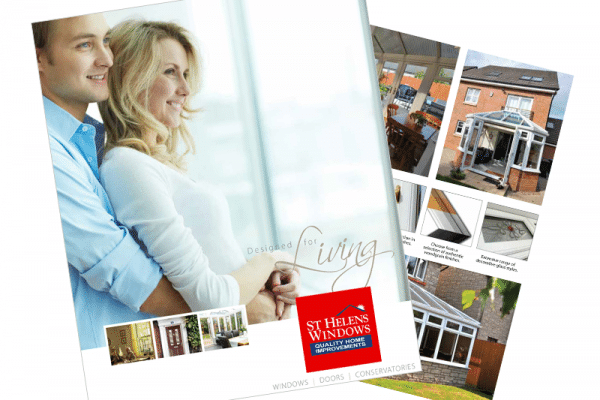 Choose a Conservatory perfect for your home with a little help from our Free Conservatory Brochure…
Time to relax and find your dream conservatory with our comprehensive conservatory brochure. Pop your name and email below and we will send you a brochure for your perusal completely free.
Conservatory Styles
A beautiful double glazed conservatory extension will create that extra much-needed space for relaxation, entertaining, work, or just because. Most house conservatories are tailor-made just for you. So whether you are looking for a traditional Victorian house conservatory or a contemporary Lean to summer room, our UK conservatories will add value to your home and create a tranquil space for you and your family to enjoy all year round.
Amazing Double Glazing Savings - Sale Now On with Up To 30% Off
Get one of the best energy rated and aesthetically pleasing window systems on the market.
Start planning your future project