Is a new conservatory a good investment?
New conservatories are an excellent addition to any home. Choose between traditional and modern conservatory designs. In addition, we are a St Helens conservatory company that manufactures our windows and doors. Making certain that you get the correct product for your home. Our double-glazed traditional and modern conservatories are a welcome addition to any home.
Choose from a wide range of double-glazed conservatories that come standard with A-rated double glazing. Furthermore, our team will collaborate with you on each stage of the extension. We offer affordable polycarbonate roofs, traditional glass roofs, and a popular lightweight tiled roof option for our double-glazed conservatories.
At St Helens Windows, we understand that a new conservatory is a big commitment, so visit our conservatory showroom to view a range of designs available on display or book an appointment online. On-site demonstrations will be provided by our Home Improvement Advisers.
What type of conservatory should I choose?
Problem requesting a quote? Email sales@sthelenswindows.com with your request. Thanks 
What is an appropriate size for a conservatory?
We've built several conservatories in the North West of England over the last 30 years. The conservatories shown on this page are a small selection of new conservatory projects completed by our company. The images of new conservatory extensions show a variety of double-glazing options, door options, and roofing options for new conservatories. Furthermore, many of our conservatory projects were created by and for the customer. To get a better look at our new conservatories, click on any of the images.
Talk to a team member about a new conservatory today.
Book your online appointment today and discuss your conservatory ideas with the team.
What conservatory colours are there?
Our traditional and modern uPVC conservatories are available in a variety of colours, including RAL colours. Furthermore, we don't just manufacture uPVC conservatories. We produce Aluminium conservatories in multiple colour options too. The following colours give you an idea of only a few colours available for your new conservatory. Call 01744 611 203 to discuss our conservatory colour schemes with a team member.
Is it possible to use conservatories all year? 
Conservatories provide much-needed extra space for a home. The double-glazed glass retains heat within the glass by utilising argon gas. Argon gas helps keep cold air out. Select from a variety of attractive, energy-efficient conservatories. In addition, we design our extensions with double-glazed glass options. Furthermore, we offer various roof options, including traditional double-glazed roofs, cost-effective polycarbonate sheets, and a modern, lightweight tiled roof. Click here to discover more about an all-year-round roof conversion.
Do conservatories require planning permission?
Your conservatory may require planning permission. Our team can help with the planning permission process. However, the service involves a fee that depends on your project's requirements. Our charge for this service is shown separately on your final order.
Please notify our Home Improvement Advisor if you require assistance with planning permission or building regulations, and they will be happy to discuss the details. The advisors will go through your specifications, including planning permissions, local authority approvals, and any other regulations that may be required. Furthermore, the team will communicate with you throughout the project, providing step-by-step instructions.
Call 01744 611 203 and speak with a member of our team.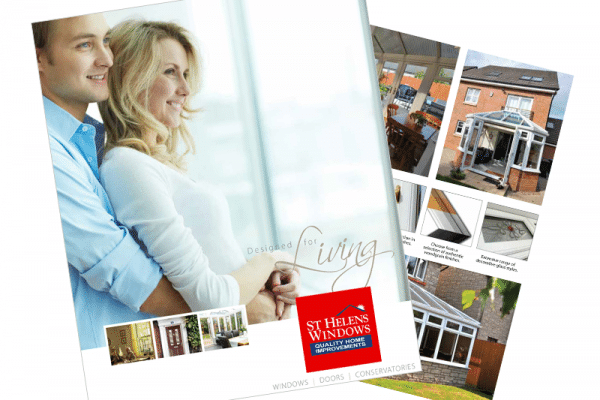 Request a conservatory brochure today
Relax and browse our conservatories brochure to find your ideal conservatory. From the comfort of your sofa, peruse our FREE Conservatory brochure, which depicts some fantastic conservatories, orangeries, and extensions on offer. Fill in your name and email address below, and we'll send you a brochure within 48 hours so you can start planning your dream extension.
Problem requesting a brochure?
Email sales@sthelenswindows.com with your request. Thanks 
What are the advantages of conservatories?
Beautiful conservatories provide much-needed extra space. Whether it's for fun, relaxation, or work. Most house conservatories are custom-made, so whether you want a traditional Victorian house conservatory or a modern Lean-to summer room. Your new conservatory will increase the value of your home and provide a peaceful environment for you and your family to enjoy all year.
Get double glazing savings with up to 30% off in our sale
Choose one of the best energy rated and aesthetically pleasing window systems on the market.
   Frequently asked conservatory
questions 
What conservatory roofing options are there?
Do you want to replace the roof on your old conservatory? You can create an entirely new living space with a new conservatory roof. Consider installing new polycarbonate panels, replacing your existing glass roof with new energy-efficient glass, or installing a lightweight tiled roof. All of these replacement roof options are available in various colours and styles.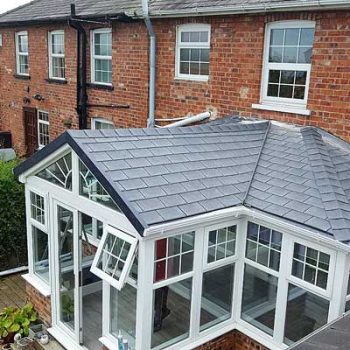 Get the most out of an existing extension with a lightweight tiled conservatory conversion
from St Helens Windows.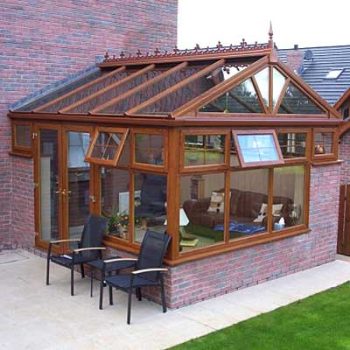 Your extension will benefit greatly from the selection of the ideal high-performance glass roof conservatory.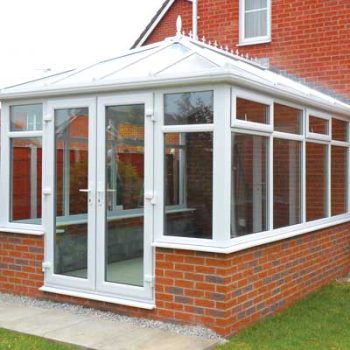 Polycarbonate roofing is lightweight and strong, making polycarbonate roofing panels a popular roof option.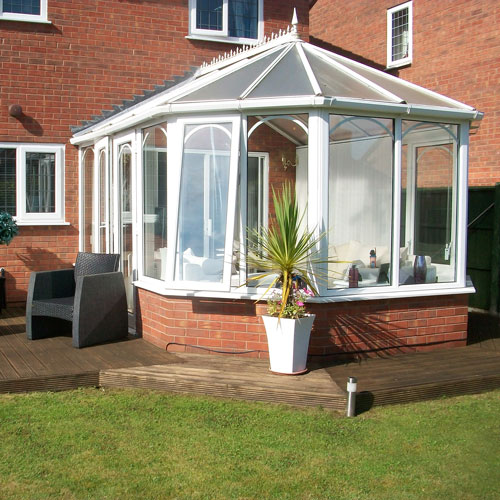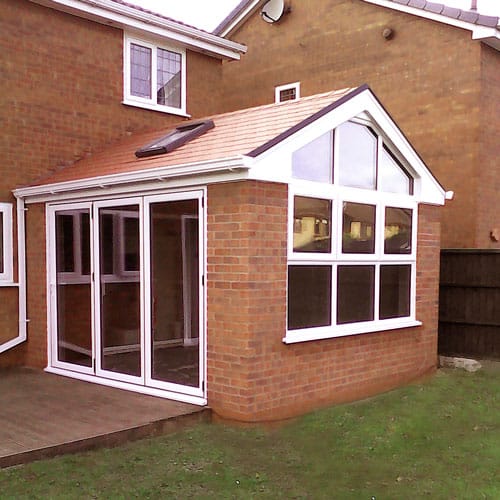 What is a conservatory used for?
A conservatory conversion offers an ideal new living space for any property. Choose from a selection of modern conservatory designs to replace your existing conservatory. Furthermore, we manufacture our conservatories in-house. Making sure you get the right product for your home. Our double glazed modern conservatories are a welcome addition to any residence. Choose from a range of stylish energy-efficient conservatories. We design our extensions to offer double-glazed glass options. Plus, we supply several roof choices, including traditional double glazed roofs, affordable polycarbonate sheets or a contemporary lightweight tiled roof. 
You may find that your current roof is too hot during the summer and too cold in winter. That can leave your room uncomfortable and unusable for most of the year. Maybe it is time for a conservatory conversion. Upgrading your existing conservatory roof with a thermally efficient, warm roof is a great choice.
Book an appointment with our Home Improvements Advisers and discover more about our lightweight roofs. 
What other products are available?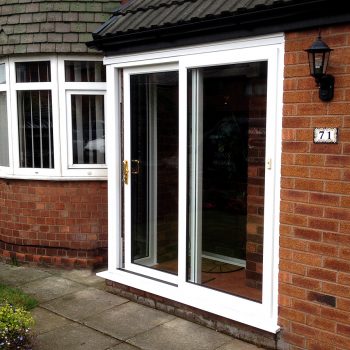 Sliding patio doors are an effective doorway into your garden. We can offer a variation of materials including, uPVC and aluminium, and we create our sliding doors in our warehouse.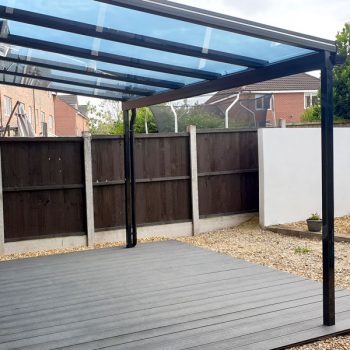 Transform your outdoor space with a low-maintenance veranda. Check out our luxury veranda range. A verandah is ideal for entertaining family and friends in the garden.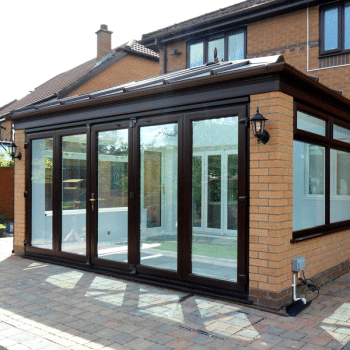 A bi-folding door is a smart approach for your home. These usually consist of three glass panels that fold away easily. We build our bi-folding doors in-house.
Start planning your future project