BiFolding doors commonly have two sets of glass doors which open and fold neatly away. This varies from sliding patio doors which regularly remain half-open. Bi-fold doors are fully open to connect your home to the outside, garden area, patio or terrace. 
Bi-Fold doors are ordinarily referred to as the folding sliding doors too. Bifolds have stainless steel tracks and wheels ensuring that they open as smooth as possible. They also benefit from what looks like a glass wall being opened up, creating additional space, opening up your home to your garden. 
Bi-Fold doors utilise a roller mechanism that assures the sliding operation is safe. Our Aluminium bi-folding doors are manufactured in-house. We offer a comprehensive selection of door styles, RAL colours and powder finishes plus various designs to the customer. Bi-folding sliding doors have grown in demand recently, especially contemporary bespoke bi-fold doors. 
To discuss your Bi-Fold door requirements further or if you have any BiFolding door questions, speak with our specialist door team on 01744 611 203 and they will provide you with expert advice on your requirements.
A Clear Choice for Quality & Value
Request A FREE Bi Fold Door Brochure
Time to relax and find your dream BiFolding doors with our door brochure. Request a copy of our BiFold door brochure.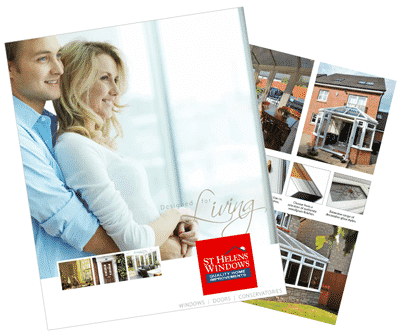 Doors That Are Strong, Secure And Beautiful
At St Helens Windows we manufacture Bi-Fold doors that benefit from quality bi-fold doors locks, hinges and double glazing glass. By adding sliding Bi-folding doors to your home, you will create the WOW factor to your home. Bi-folds create style and luxury to traditional or modern built homes. Merge your home with your garden by adding aluminium bifold doors.
You can choose from a large selection of RAL colours and powder paint finishes. The standard RAL colour range and a selection of textured paint finishes offer a fantastic finish to your preferred doors.
We manufacture slim aluminium frames that increase the natural living space and allow the maximum glass size for your bi-folds. Aluminium Bifold doors are designed to fold neatly and to allow extra light and beautiful views in and out of your home. The A-rated double glazed aluminium bi-folding doors can help to save you money on energy bills and reduce heat loss.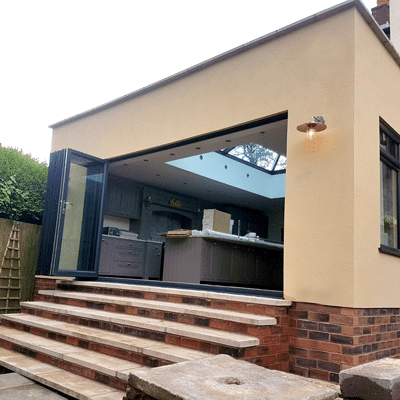 Let's Discuss Your Bi Fold Door Requirements
Book a FREE appointment – Send us your preferred day and time online today.
Start planning your future project