Tiled Solid Roof Conservatories
Conservatory conversions with Solid roofs are one of the most reliable ways to get the most out of your extension. They give a pleasant living area and produce a stunning conservatory. Plus, our new solid roof conservatories are available in a variety of styles, giving you a fashionable look for your property.
A Solid roof conservatory conversion can revitalise the look of an old conservatory or orangery. These conservatory conversions will allow you to use your extension all year round. Furthermore, unlike standard polycarbonate roofs or a double glazed glass roof, solid roof conservatories create a comfortable living space no matter the weather.
We fit all of our conservatory conversions with our roofing professionals. We can make each roof design unique to you, offering various tile designs and colours. Plus, our roof tile colours include grey, red, brown and many more choices.
Each Solid roof conversion can be unique to your house. We can add high quality double glazed windows to your Solid roof conservatory, giving you an impressive view of the sky. Plus, an existing conservatory conversion will create a unique, comfortable room for your home. A Solid roof conservatory conversion may also improve the value of your home.
If you are interested in our Solid roof conservatory conversion, get in touch with our team. Call us on 01744 611 203 and get started with your FREE 12-month quote.
Solid Roof Conservatory

Conversions
Roofed conservatory conversions are a unique idea for people looking to refresh their worn glass conservatory roof. A Solid tiled roof will create an entirely new look to any existing conservatory. Adding that extra effort to the appearance in your current conservatory will help in the long run. Due to the style of a Solid roof conservatory, you will lose some natural light, but this won't affect the feel and space in your room because windows and doors will provide the natural light required.
Our expert team provide a variety of services to complete the look of a property. Plus, we always work with the customer in mind, aiming to minimise your disturbance.
Roofing A Conservatory Costs
We design our replacement conservatory roofs in-house to meet your requirements. We have a wide range of conservatory conversions and designs to choose from. Plus, our range of tiled roof conservatories or other roof styles is ideal for your home.
The cost of a new Solid conservatory roof varies, that is why you can get a free quote from our expert team. Call our conservatory roof conversions team on 01744 611 203.
Roofing A Conservatory

Benefits
Easy, Hassle-Free Home Improvement

Use Your Room All Year Round

Potential Saving On Energy Bills

Add Value To Your Property

Tile Colour Matches

Various Styles And Designs Available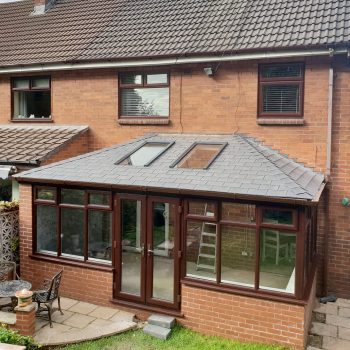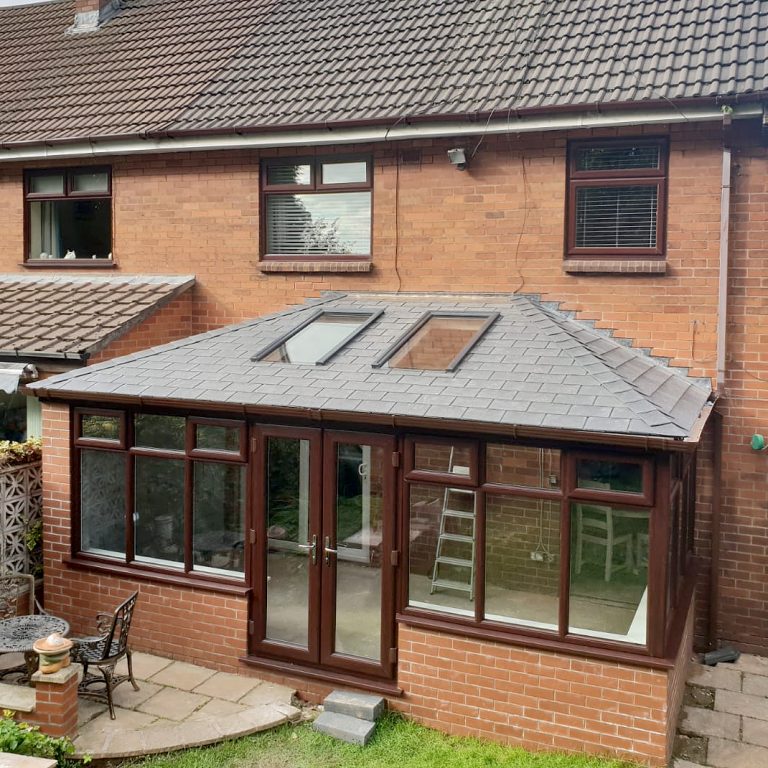 Find Out More About Our Solid Roof Conservatories
Book a FREE appointment, our Home Improvements Adviser will find the right roof for conservatories.
Popular Reasons For Roofing A Conservatory
You may find that your current roof is too hot during the summer and too cold in winter. That can leave your room uncomfortable and unusable for most of the year. Maybe it is time for a conservatory conversion, upgrading your existing conservatory roof with a thermally efficient, warm roof is a great choice.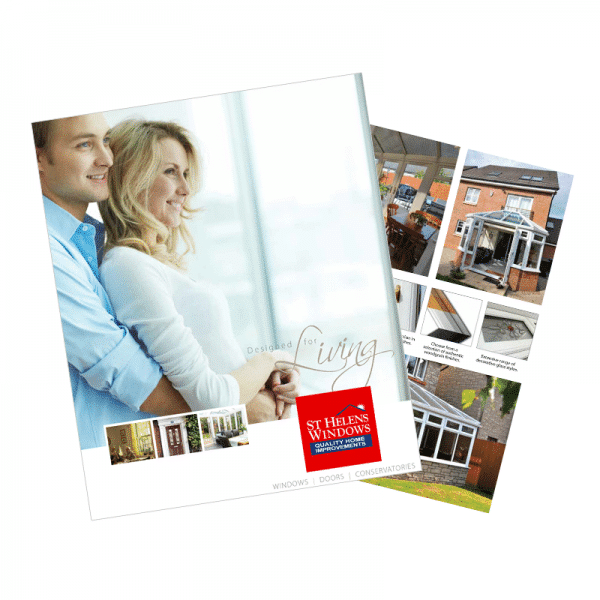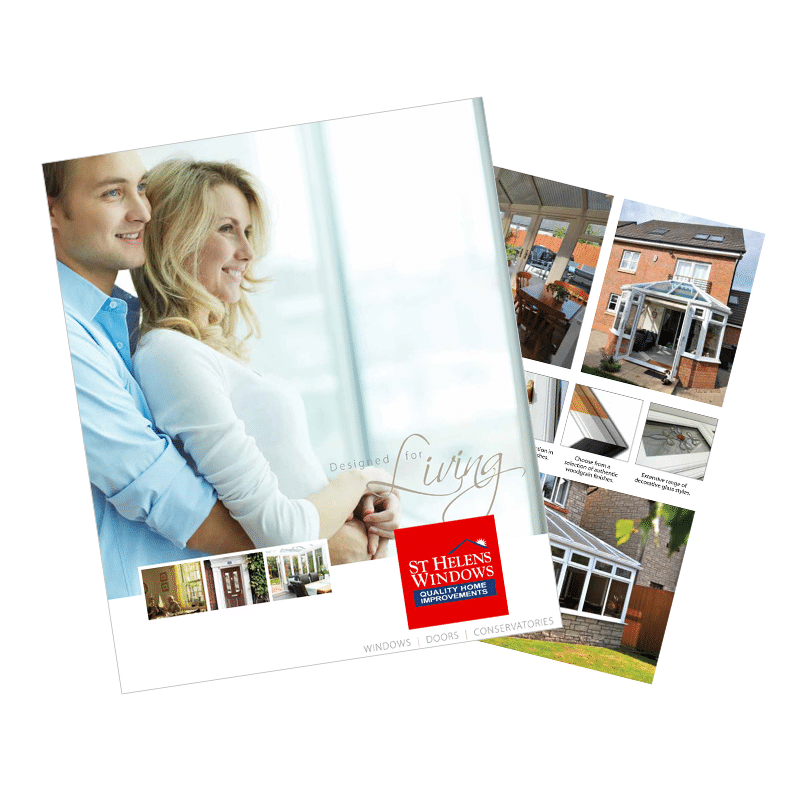 Request Your FREE Solid Roof Conservatory Conversion Brochure
Get inspired for your home with our FREE brochure. Our conservatory conversion brochure is full of designs and colours to suit your home. Just fill in the form below, and a member of our team will be in touch.
We are always trying to improve our customer relations, so if you have any questions and want to know more, get in touch.
Other Tiled Roof Conservatory Ideas Available
A Solid roof conversion doesn't just have to be on a conservatory or orangery. We can work with a range of flat and porch roofs. Below is some of the fantastic work that we have done over the years. If you are interested in our solid roof conservatory, get in touch with our expert team.
Tiled Solid Roof Conservatories
FAQ's
Start planning your future project