Get Your Free Home Improvements Quote By Calling 01744 611 203
You can also complete our online quote form, upload your images and sizes or make an appointment for an online presentation.
Home Improvements Throughout The North West 
St Helens Windows Home Improvements understands that choosing the right home improvement business isn't easy. We are one of the best home improvement companies in St Helens and its surrounding areas. Manufacturing and fitting replacement uPVC windows, aluminium windows, doors, conservatories, orangeries, and porches. Plus, several other double-glazing products for over 25 years. Our two decades of experience make us one of the longest-running home improvement companies in the North West of England. Furthermore, we are a trusted and family-run business. Our team of professionals helps customers reach their home improvement goals.
We benefit from manufacturing our double-glazing products in-house. Furthermore, this allows you to choose a quality double-glazed product. Plus, it provides you with complete peace of mind. St Helens is famous as the home of glass, and we are proud to supply St Helens glass. We offer a professional home improvement service and great value for money. We aim to provide energy-efficient products throughout the North West as a uPVC St Helens family-run business. Plus, we offer one of the largest selections of window styles to fit your home improvement plan.
Call 01744 611 203 to get a FREE quote from the comfort of your home. Plus, receive up to 30% off a comprehensive range of double-glazing and uPVC St Helens home improvements products like uPVC windows, doors, and conservatories.
What Home Improvements Are You Looking For?
Keep Your Home Improvements Moving
St Helens Windows adheres to government safety guidelines and recommendations. Our showroom is open for viewing. Please call the office in advance. Do you want to arrange an appointment? Please, contact the team today. You can also complete our online quote form.  Upload images of your uPVC windows or product sizes, for example, to aid the process and a Home Improvements Adviser will then contact you. Our team will work with you to make the home improvements of your dreams a reality.
We manufacture uPVC windows, doors, extensions, and aluminium products in-house, so we are not constrained by supplier design restrictions. Using our distinctive window designer, you will discover that we create the exact uPVC St Helens window style you desire. We can customise your uPVC and aluminium products to meet your particular needs.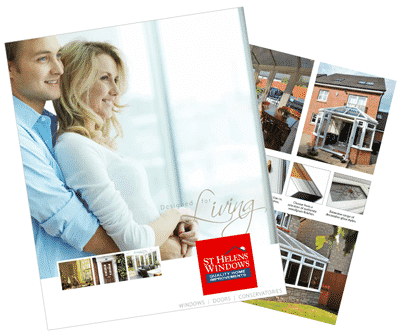 Create a more energy-efficient home from your sofa with our FREE Home Improvements Brochure.
We have a fantastic selection of Home Improvement brochures full of inspirational ideas for your home. Browse our FREE Home Improvements brochure from the comfort of your home, illustrating some of the fantastic double glazing products on offer.
How are uPVC windows manufactured?
At our factory, our professional fabricators create a wide range of home improvement products, including traditional uPVC windows. Furthermore, we are a leading North West uPVC windows installer, supplying and installing uPVC windows throughout the region. A-rated double-glazed windows are supplied and installed by our window installers and manufacturers. The types of windows we offer come with a choice of sourced toughened St Helens glass.
We strive to create uPVC windows and other home improvements products that are affordable, energy-efficient, and of high quality for your project. We strive to offer high-quality products at reasonable prices. Plus, we manufacture using a quality type of energy-efficient uPVC window.
Call 01744 611 203 and inquire about our double-glazed A-Rated energy-efficient uPVC windows. St Helens is well-known for being the birthplace of glass. Furthermore, we are pleased to provide quality St Helens glass to its residents.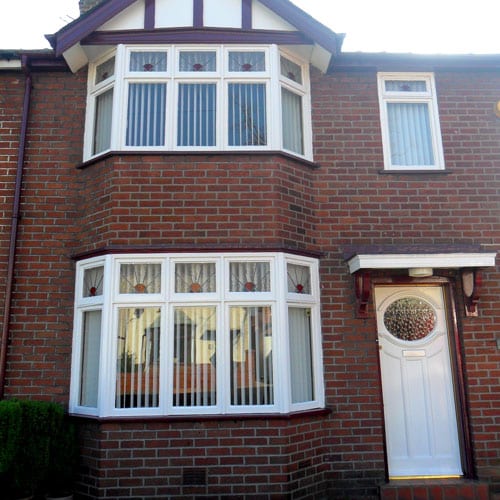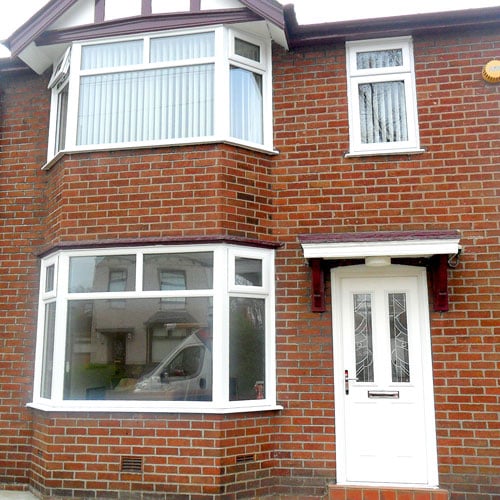 CALL US FOR FREE
Speak with a member of our Home Improvements Specialist Team. Call 0800 854 803 for a FREE no-obligation quotation.

BOOK AN APPOINTMENT

Book A Free Appointment today with one of our experienced team members. They will help with any questions you may have.

SHOWROOM VISIT
Book an appointment to visit our Showroom Today. With a great selection of double glazed Home Improvements on show.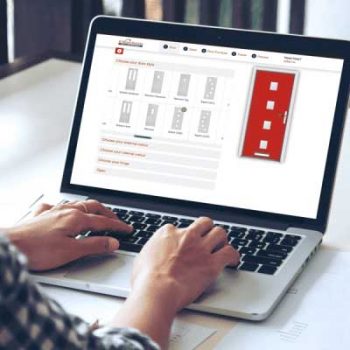 Would You Like To Visualise Your New Door Before You Buy?

Great, design your dream door composite online with our door designer app. The app will allow you to visualise how your double glazed dream composite door design will look. Plus, see how your design will look on your before you buy. To get started, click the button below to get started. See for yourself, create your front door with a variety of designs, styles, colours and glazing options.
The online door designer app may take a few moments to load. Once loaded you're ready to design your dream door. Thank you.
Would You Like To Discuss Your Double Glazing Requirements?
Book your FREE appointment online request your preferred day and time online.
Our Customer Testimonials
Customer service is something we pride ourselves on. And we think our customer's testimonials express their experience with us.
5.0 out of 5 stars (based on 41 reviews)

Would recommend St Helens Windows, Keiron has fitted all our Windows, Sliding door and Composite door, they have done an amazing job, I am absolutely delighted with them and such a lovely friendly young man we are very satisfied thanks Keiron and St Helens Windows have done a very professional job.
5.0 out of 5 stars (based on 41 reviews)

St Helens Windows deserves a five-star review! Their quote was the best and at every stage, from foundations, the building of porch and finishing touch the work was done very professionally. Dates were kept and information conveyed clearly. Any queries I had were always answered promptly. The porch is superb and we could not be more pleased. I would highly recommend them.
5.0 out of 5 stars (based on 41 reviews)

Just wanted to let you know that Stefan has been so good today. Very tidy and helpful. Minimal fuss and hasn't stopped. He's still here but thought I should let you know the positive feedback about his approach.
Start planning your future project
Finance Options Available On Our Double Glazing Products
Are you looking to spread the cost on replacement uPVC windows, a new door or an extension?