How much does a glass roof conservatory cost?
A glass roof conservatory is the most common roofing system in the United Kingdom. Prices for a new glass roof vary. Choosing the right high-performance glass roof is a significant part of your extension. The correct glass roof will guarantee that you can use your conservatory all year round, control the heat levels, and let the right amount of light through. You will need to consider the position, temperature control, maintenance, aesthetics, and durability of the build before having your conservatory installed. The following information will help you choose the right glass roof for your conservatory. The list offers a description of the Ambience series available.
Call 01744 611 203 to find out more about a conservatory glass roof.
Is a glass conservatory roof better?
A glass roof is significantly better than a polycarbonate roof in many ways. Double glazing will help to keep your conservatory warm during the winter months, saving you money on your energy bills in the long run. Furthermore, double glazing will allow natural light in your conservatory extension. Choose from several different double-glazing options.
Why should you choose our conservatory glass roofs?
Conservaglass is a high-performance glazing product that ensures your customers get the most value for their money. It is available in a variety of colours (tiers 1 and 2), allowing you to personalise the look of your conservatory. In addition, all options include a self-cleaning system, as well as a variety of U-Value and light rejection options.
• Conservaglass Standard: With self-cleaning coating technology, Conservaglass Standard is perfect where light transmission is received. Available in blue, neutral, aqua, and bronze.
• Conservaglass 4S: Offers 90% UV projection and 78% solar rejection, as well as self-cleaning properties. Available in blue, neutral, aqua, and bronze.
• Ultimate Blue: Ultimate Blue intelligent glass reflects 80% of solar energy in your new conservatory and will help reduce heat and solar glare in summer, available in blue only.
• Conservaglass Ultra86 – Conservaglass Ultra86 offers self-cleaning technology and optimum solar control properties, reflecting 86% of solar heat, available in blue only.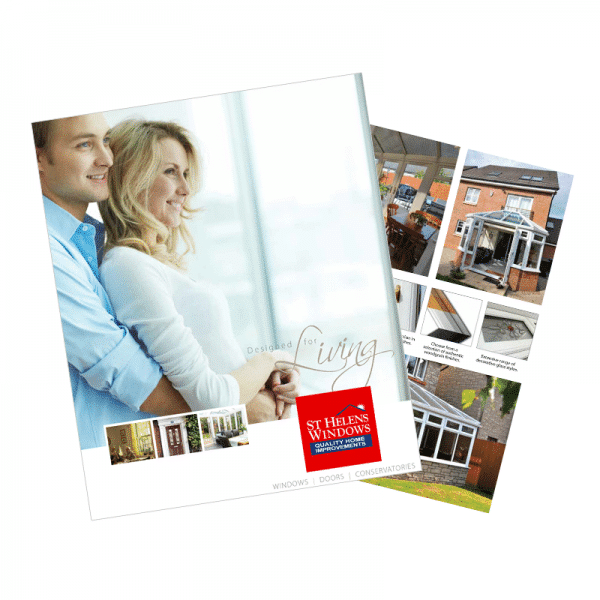 Request a FREE conservatory glass roof brochure
Be inspired and get the right glass roof for your conservatory. Our FREE glass brochure will assist you, just add your name and email below and we will send you our brochure.
Creating a visually appealing space
A glass roof can increase the amount of natural light in your home while creating a visually appealing space. Your conservatory will bring outdoor living into the heart of your home, allowing you to watch the seasons change comfortably. Furthermore, St Helens Windows is a market leader in the manufacture and construction of conservatories, and our glass roofing system is renowned for its quality and strength.