How much does a glass roof conservatory cost?
A glass roof conservatory is the most common roofing system in the United Kingdom. Prices for a new glass roof vary. Choosing the right high-performance glass roof conservatory is a significant part of your extension. The correct glass roof will guarantee that you can use your conservatory all year round, control the heat levels and let the right amount of light through. You will need to consider the position, temperature control, maintenance, aesthetics and durability of the build before having your conservatory installed. The following information will help you choose the right glass roof for your conservatory. The list offers a description of the Ambience series available.
Call 01744 611 203 to find out more about a conservatory glass roof.
Is a glass conservatory roof better?
A glass roof is significantly better than a polycarbonate roof in many ways. Double glazing will help to keep your conservatory warm during the winter months, saving you money on your energy bills in the long run. Furthermore, double glazing will allow natural light in your conservatory extension. Choose from several different double glazing options.
Ambi Sunshade Blue – Self Cleaning



• The best performing blue solar controlled glass to date
• Up to 80% solar and heat reflection
• Provides increased glare reduction
• Aesthetically pleasing, while keeping its traditional sky blue tint
 

Ambi Aqua – Self Cleaning
• A superior glass roof product
• Exceptional heat reflection capabilities
• Reflects 78% of the sun's heat
• Reduce the internal temperature (particularly with a south-facing aspect by up to 9'C during the hottest summer months)
Ambi Blue – Self Cleaning
• Delicate blue tint
• Offers up to 60% reflection from the suns rays
• Reduces the internal temperature of a conservatory
• 53% reduction from the suns glare (protects furniture and fabrics from fading)
Ambi Bronze – Self Cleaning
• Developed to ensure that this attractive tinted roof glass (ideal for matching most modern conservatory colours)
• 55% reflection from the sun's heat (helps to reduce temperatures inside the conservatory making it much cooler in use)
Ambi Neutral – Self Cleaning
• Comes in neutral tones
• Least amount of tint in the range
• Provides a natural look to the finished room
• Reflects 60% of the sun's heat away from the conservatory
• Optimizes thermal insulation during cold winter months
• Reduces the sun's glare by 63%.
Ambi Satin Privacy
• Perfect for privacy in your conservatory without losing any light
• Opaque options allow 75% of natural light to penetrate the glass
• Provide high light transmission while still affording maximum privacy
Ambi TRIPLE self-cleaning
• Suitable for all glass
• Centre pane u-values as low as 0.7 some 30% better than the standard double glazed roof glass
• Enhanced sound reduction & improved solar control
• Privacy and self-cleaning coatings
• Benefits of our Low E product
Self Cleaning Glass
• Reacts with UV rays in sunlight to generate a photocatalytic process (loosens and breaks down organic dirt particles on the surface of the glass)
• The surface coating is hydrophilic (attracts water so that it spreads and forms a thin fi lm that 'sheets' away quickly, and dries off without leaving unsightly 'drying spots')
• Self-cleaning glass leaves (less dirt and grime adhering to the glass resulting in the glass staying cleaner for longer, meaning less maintenance is needed)
U-Value
• Air-to-air heat transmission (loss or gain due to thermal conductance and the difference in indoor and outdoor temperatures)
• U-Value decreases (the amount of heat that is transferred through the glazing material)
• Lower the U-Value, the more restrictive the fenestration product is to heat transfer (Reciprocal of the R-Value)
• Strikes an optimum balance between economy and ecology (the lower the U-Value, the more efficient the insulation)
Solar Factor
• Solar control glass helps regulate the amount of solar energy that enters a building
• Solar control glass saves money by reducing the amount of energy used (heating and air conditioning systems, and boosts comfort levels inside the building by controlling indoor temperatures and light levels)
Light Transmission
• Measures light passing through the glass. Too much light can create an uncomfortable environment with glare becoming a particular problem. Insufficient light transmittance can result in reduced visibility.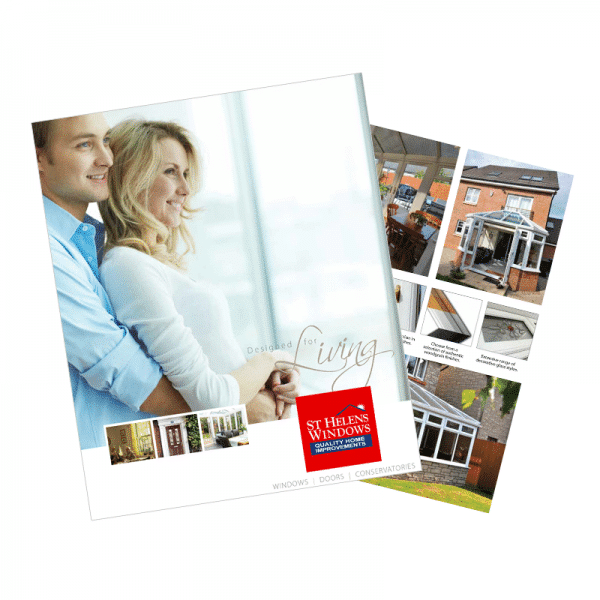 Request A FREE Glass Roof Conservatory Brochure
Be inspired and get the right glass roof for your Conservatory. Our FREE glass brochure will assist you, just add your name and email below and we will send you our brochure.