UPVC French Doors Supplied And Fitted
Take advantage of a set of supplied and fitted exterior uPVC French Doors and enjoy the outside view throughout the year. We have wide range of upvc French door colours, styles and features to choose from. Furthermore, our double glazed french doors are available in uPVC or as Aluminum doors, both options are energy efficiency, durable and benefit from other features. All of our uPVC French double doors come with an Ingenious Locking System as standard. The French doors manufactured at our UK North West factory have a classic look that adds character and other additional features to any home. Advances in the way we manufcature french doors uPVC means that we have brought these right up to date using the latest and materials and one of the best profile systems on the market for energy efficient units. Offering great thermal performance and a range of security features.
Why Choose A-Rated French Doors
Create the perfect entrance to your garden with uPVC external french doors from St Helens Windows. A member of our professional door team will provide you with expert advice and will guide you through tailoring your French doors to your homes requirements. Offering a wide range of French door styles and glass choices, plus an aray of colours and wood effect options that can make create the perfect and unique set of French doors. Once you have made a decision on what doors and designs you want, our team will measure up and provide you with no obligation free quotation that we will lock in for the next 12 months. To find out more about A-Rated French doors and to see what fantastic offers we have available speak with a member of our Specialist Team today on 01744 611 203 today.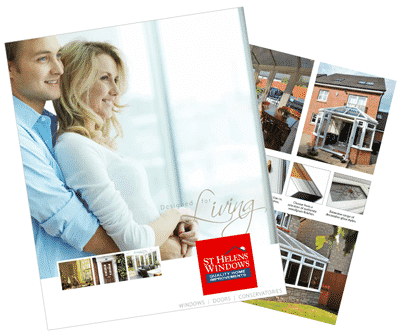 Request A French Door Brochure.
Time to relax and find your dream door with our comprehensive French door brochure. Request a copy of our door brochure, containing information on our doors as well as designs, colour choices, accessories and glass designs.
Available 
Colours For 
French Doors 
The top ten most popular uPVC French Door colours. Choose from a fantastic selection of double door colours with a beautiful authentic 'wood like' finish, including a stylish Anthracite Grey or a contemporary Chartwell Green. Our uPVC double doors are engery efficient, incredibly durable, secure and stylish.
We do offer a selection of unique colours, but please be aware that there may be a longer lead time on the deliver of these colours due to the colour variants.
Why Choose uPVC French Patio Doors?
High standard locking system provided by Ingenious Locking Systems.
Outward door opening system adding the classic touch to homes.
A+ rated energy efficiency and thermal performance doors.
Bespoke manufactured made to measure uPVC French doors.
Fantastic selection of colours and wood like finishes.
French Door Colour Choices
Choice of grey uPVC or Aluminium French doors
Contemporary black double doors
Affordable white uPVC French doors
Wood like brown PVC Door options
Oak and Irish Oak uPVC French doors
Let's Discuss Your Double Glazing French Door Requirements
Book a FREE appointment – Send us your preferred day and time online today.
Start planning your future project