Anthracite Grey Lean To Conservatory With Complete Glass Finish
A lean to conservatory can improve the value of your home.
Conservatories are a valuable addition to any home and provide a gateway into your fantastic garden. Sitting in your lean to conservatory on a wet autumn afternoon, listening to the rain patter down your windows. A conservatory creates an excellent living area to sit back and enjoy the unpredictable British weather.
Lean to conservatories come with a pent roof that gives a unique design to other conservatory designs. The wide-open double glazing maximises the amount of natural light that enters the rear of a property. Secondly, a lean to conservatorys are a cost-effective option due to the simple design and quick to build framework. We aim to work closely with our customers to produce an ideal extension that you can enjoy year-round. Here are some more benefits of a fantastic lean to conservatory.
Fits most properties due to the basic structure

Cost-Effective option 

Increases a properties living space

Maximises natural light in a home

Increases property value
If you want to know more about our lean to conservatory styles, we have a team on hand to help. Call 01744 611 203 to find out more. 
Stylish Glass Room With Improved Living Area
The anthracite grey structure in combination with our A-rated double glazing boosts living space and maximises natural light. Furthermore, these conservatory designs have a range of applications. The full-length windows create a panoramic view of the garden, a fantastic feature of our fashionable lean to conservatory.
The extension pictured protects the customers sliding patio doors and incorporates a beautiful set of french doors that open out into the garden. We have a range of doors available to give you a stylish entrance into your picturesque garden.
Are You Interested In Any Other Conservatory Styles?
Some of our popular conservatories:
Garden Rooms: These extensions are an excellent way to improve the living space of your home. Growing in popularity, they create a stylish barrier into your garden.
Solid Roof: Solid roofs are an excellent option for people to refresh their tired extension. A solid tiled roof creates a more efficient room that the owner can use year-round.
Edwardian: These conservatories create a lasting look, comprising style and light. They are an ideal option for an extensive living area.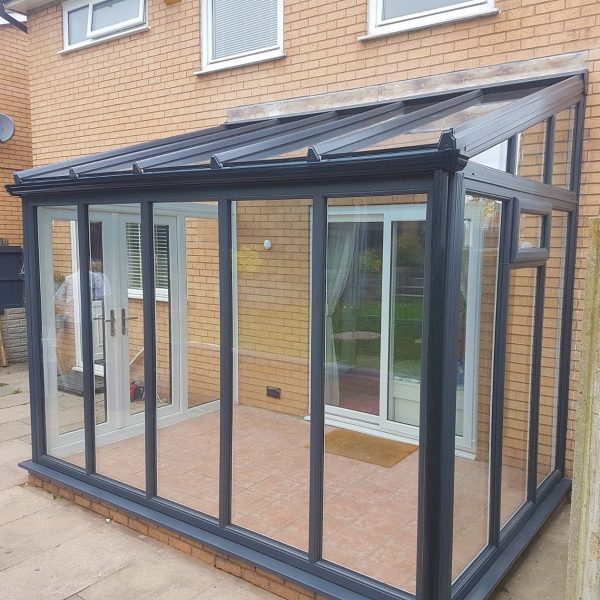 Different Conservatory Styles
Interested in a Lean To Conservatory?
See our full range of conservatories with our complimentary brochure. Our team offer high-quality work and take pride in our customer relations. We provide a comprehensive list of services to give your home an eye-catching aesthetic. To get one of these handy brochures, fill in your contact details below. A member of our professional team will be happy to help.
Take A Look At Our Complete Range Of Conservatories
We offer a comprehensive list of conservatory styles to give your home a fashionable aesthetic.
Planning Permission
You may or may not need planning permission for your new conservatory. Conservatories frequently don't need planning permission, but if you do, we have a team that can deal with the process. Furthermore, it can often depend on the type of conservatory. If you are unsure, get in touch, a member of our team will be happy to help. They can answer any questions that you may have.
A Selection of Colours
We offer a selection of stylish RAL colours. They can be both traditional or contemporary for whatever your style is. Some of our popular colours include the anthracite grey pictured and a beautiful cream uPVC. If you want something to fit in with your homes wood effect windows, we also offer a variety of wood finishes to create a flowing aesthetic.
Energy-Efficient Door Options
Our lean to conservatories often come with either french, sliding patio or bi-folding doors. These are all energy-efficient doors open out into the garden. Furthermore, if you want a different style of door, give our team a call, they will be able to answer any questions you have.
Bi-Folding Doors
These regularly have two sets of glazed doors which fully open and fold away neatly, connecting your home to the garden area or terrace. 
Sliding Patio
Patio doors are a space saving option for your home. They enhance natural light and allow fresh air to flow through.
French Doors
Offering multiple colours, door styles and features, french doors open outwards or inwards. Available in uPVC or our modern Aluminum.
Double Glazing Options
Energy-efficient double glazing is an excellent way to keep your home warm, insulated and quiet. That is why we offer A-rated double glazing for all of our window services. Furthermore, a lean to conservatory needs the best insulation due to the style. The large open glass panels offer a great view of the garden and the night sky. So you want this glass to keep the room cosy so you can enjoy it all year round. Finally, having a thermally efficient extension can save you money on your energy bills.
Start planning your future project