What Are The Benefits Of Aluminium Windows?
Firstly, Aluminium windows are manufactured to be long-lasting and easy to maintain. Secondly, the Aluminium frames offer an individual and contemporary style of window, making them the perfect choice for the homeowner who wants a stylish looking window without the high upkeep. Thirdly, Aluminium window frames provide easy maintenance and excellent energy efficiency as standard, helping to keep your home warm in the winter and cool in the summer. Aluminium window frames have additional benefits including things like, they will not rot, peel, flake or rust.
Plus, these windows offer one of the slimmest frames available, Aluminium frames allow additional natural light into your property, we manufacture Ali windows in a range of RAL colours and powder coatings giving your property a stylish and contemporary look and feel. If you wish to keep the windows looking clean all year round there are options to choose self-cleaning glass. For instance, choosing self-cleaning double glazed glass will ensure your windows look great all year round.
Why Choose Aluminium Window?
The Aluminium window frame benefits from being strong and durable.
Double glazed Aluminium casement windows add style properties.
Weatherproofing makes them highly resistant to rust and corrosion.
Larger glass area and less visible frame giving more natural light.
Easy to clean and maintain Aluminium window frames.
Aluminium is a sustainable product. Recyclable and non-toxic.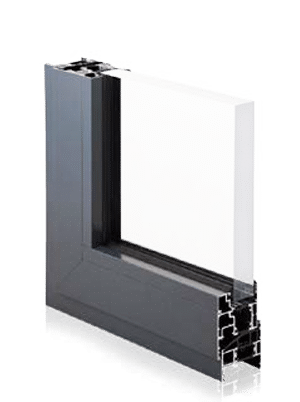 Aluminium Frames Are
Durable And Strong
Furthermore, Aluminium casement windows benefit from being extremely light window frames, reliable and durable making them the ideal choice for a contemporary looking home. As with any Aluminium, the frames do not expand when exposed to heat or contract when it is cold. Helping the double glazed windows to almost never get draughts. The Aluminum profile frame offers internal beading, preventing the glass being removed from the outside. Moreover, the frame has a large area for the glass unit allow more natural light to enter the property whilst being energy efficient and a secure choice of window. Finally, we manufacture, supply and fit Aluminium casement windows with multi-locking systems to make them a secure window option.
Choose A Slim Designed Window Frame
A unique feature of the double glazed Aluminium window profile is its slimmer design. The thin design of the window frames to other materials such as timber windows and double glazed uPVC windows is beneficial in many ways. Plus, the slimline Aluminium frame design allows for more generous panes of glass, increasing the amount of natural light entering your home. Furthermore, more glass offers an enhanced view from your home.
Furthermore, at St Helens Windows we manufacturer aluminium casement windows so all of our aluminium window frames and doors are specifically designed for your property. The windows are made to measure and professionally manufactured by a team of professional window fabricators. Offering a fantastic range of designs, colours and styles to the customer.
Plus, we manufacture these windows in various RAL colours including grey aluminium windows, black aluminium windows and the trending powder coated aluminium windows. The UK's leading Aluminium supplier ALUK supplies us with parts and components to create the perfect window.
To discuss your Aluminum window requirements and any questions you may have, just call 01744 611 203 and speak with our specialist team, they will provide you with expert advice.
Fantastic Double Glazing Aluminium Savings
Get one of the best energy rated double glazed window systems on the market.
Get a FREE Double Glazed Aluminium Window Brochure.
Time to sit back and relax, you will find the ideal Aluminium Windows in our brochure. Request a copy of our brochure, containing all the information, designs, colours, accessories and glass designs.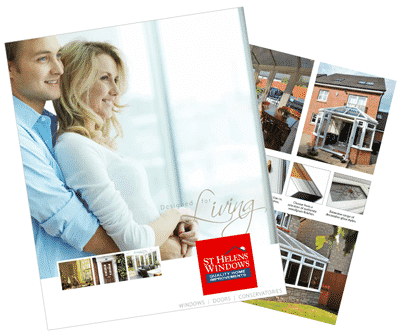 What Is The Cost Of Aluminium Windows?
Aluminium casement windows cost can vary and range from affordable prices, speak to a member of our Home Improvements team today on 01744 611 203  or alternatively request a free double glazed aluminium window brochure by adding your details to the above brochure download section.
Let's Discuss Your Aluminium Window Requirements
Book a FREE appointment – Send us your preferred day and time online today.
Start planning your future project