Replacement Double Glazing Windows
Double glazing can help to keep your property warm, safe and quiet. We offer double glazed windows at St Helens Windows with a range of uPVC windows and Auminium windows available in a huge selection of different window styles and colours to suit any home.  Replacing old single-glazed windows with a new double glazed window is a very good and popular upgrade and an affordable alternative to replcing your window frames however, having new replacement A-rated double glazing windows fitted will help you to save on your energy bills too. There are many different benefits to having double glazed windows installed. These include noise reduction, preventing heat loss, increase the value of your home. Our range of double-glazed windows come fitted with multi point locking systems to help make your home more secure. Now is the perfect time to replace that old single glazed window.A-rated double glazing wil help you to save on your energy bills too.
St Helens Windows can create the provide you with quality in-house manufactured windows for your home. To discuss your replacement winow requirements or if you have any double glazing related questions, speak with our specialist window team on 01744 611 203 and they will provide you expert advice on your requirements.
Book Your Free Appointment Today. Huge Savings Available.
Just click the button to get started. A member of the team will be happy to help.
A More Secure Home
Security and home safety play a very improvement part in the manufacture of our products. Our window double glazing is made from durable materials. These materials are designed to help withstand forced entry with other security features. Glazed windows in uPVC and aluminium are installed with locking security shoot bolt locks and handles as standard. Beading and glazing on the inside of our windows means the glass cannot be removed from the outside. Furthermore, this helps to protect your home from forced entry.
Better Energy Efficiency
Our wide range of double-glazed windows are created to help keep your home warm all year round. Two separate glass panes help reduce heat loss through your windows. Your home will become more energy efficient and will help to save you money on your gas and heating bills. Our best performing A+ rated double glazed windows and triple glazed windows are the best choices for helping to reduce heat loss during the winter months. They are designed using the lateest in glazing technology to help improve energy saving.
Improved Noise Reduction
One of the best benefits from double glazed new windows is their ability to reduce noise from the outside of your home. Double glazed uPVC windows are made using two panes of glass with a gap inbetween them. We know that sound travels in waves and when the sound hits the glass panes it reverbertates. The sounds waves hit both of the double glazing glass panes at the same frequrency which then deadens the sound. Our wide range of A rated windows provide good sound protection for your home. If you currently live near a busy road or a popular flight path we can help.
For more information and help with our double glazed windows contact us today on 01744 611203 to speak to one of our home improvement advisors.
Double Glazing
Window
Benefits
Help With Noise Reduction.
Help With Reducing Energy Bills.
Added Security.
Add Value To Your Property.
Help To Remove Interior Condensation.
Easy To Maintain.

Increasing Curb Appeal.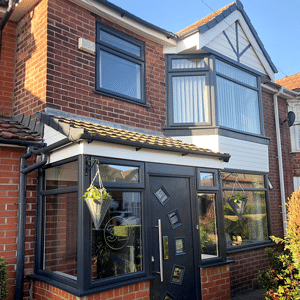 Finance Options Available On A Huge Range Of Products
Are you looking to spread the cost? We are here to help.
Start planning your future project