What are the best composite doors?
Composite doors create a dream entrance to any home. St Helens Windows offers both contemporary and traditional doors. Furthermore, our factory produces our composite front and back door frames. Composite doors from St Helens Windows come reinforced with a rigid polymer subframe, a high-impact resistant GRP skin, and a high-density insulated core. St Helens Windows composite doors have a woodgrain finish to mimic the appearance of a traditional wooden door. Furthermore, the woodgrain effect and design give the door composite a smooth and beautiful finish.
Call 01744 611203 and book your free quotation over the phone or email sales@sthelenswindows.com for more details.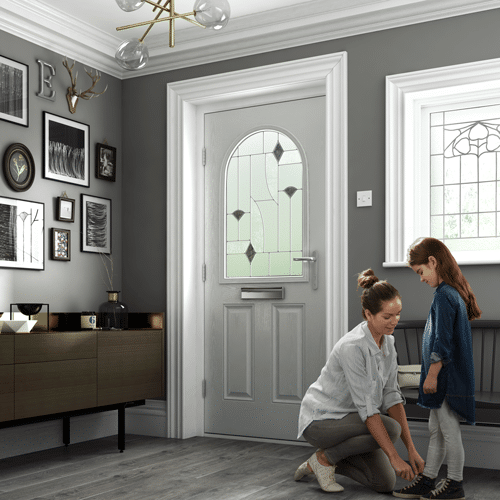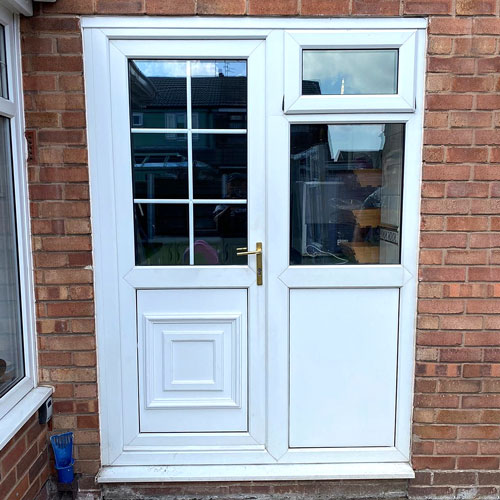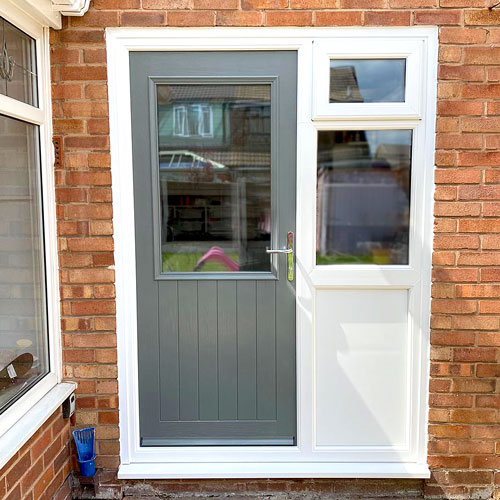 Why should I invest in a door composite?
Composite front and back doors help to reduce sound pollution by having a weighted noise reduction of 31 decibels, which means that your new front door will reduce outside noise. Furthermore, GRP door composites require little maintenance. Composite doors are weather resistant, and our GRP composite doors are weatherproof, allowing the composite doors to keep bad weather out and look good for a longer time frame.
Furthermore, our composite door collection comes in various designs, colours, glass options, fanlights, and composite side panels. Our doors are among the most thermally efficient on the market because they use double- or triple-glazed glass with A-rated energy efficiency. Thermally efficient by 19% compared to standard 48mm solid wood core door composites.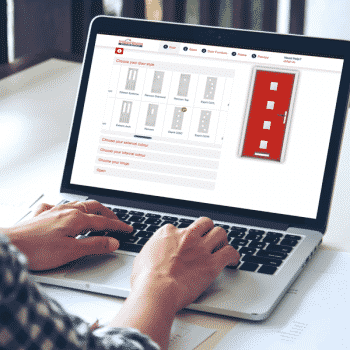 Is it possible for me to design my front door online?
Using our free online composite door designer, you can design your dream door from the comfort of your home. It is simple to use the online door designer. Choose your composite door style, colour, glass, and accessories. You'll be able to see an image of your dream front door once you have finished selecting your door options.
Please Note: The Online Door Designer App may take a few moments to load. Once loaded, you're ready to design your dream door. Thank You.
How to design your door, step by step
Choose your door style: Choose your ideal door design from several traditional and contemporary styles.
Pick your door colour: Choose from a collection of exclusive colours. There is a door colour to suit every home.
Select your glass design: Add a decorative glass design to the door.
Providing the finishing touch: Pick your handle and letter plate colours.
Preview your door: You can see how your door design will look on your home by uploading an image of your home or using the default image provided.
Get a quote: Submit your door designer to our team and we will be in touch as soon as possible.
Click on the images above to see how the door designer works.
Great Savings On Stylish Composite Doors
Get Your Free No-Obligation Composite Door Quote From The Comfort Of Your Home Today.
Can I design a one-of-a-kind composite door?
Our team will work with you to create the ideal GRP door composite. They will take you through all of the design stages so you can see the finished product. We will help you choose the best type of door for your needs. Traditional composite doors, contemporary doors, and arched framed doors are among the styles available.
Doors are available in RAL colours, giving you plenty of composite coloured doors to choose from, plus a variety of glass designs and accessories for your front door. We also manufacture composite external door frames with fan lights. With the assistance of our design team, you can create your ideal door.
What are the frequently asked questions about composite doors?
What are composite doors?
Composite doors are the stylish doors that you will see on many homes across the UK. They are contemporary looking door with a woodgrain effect, giving a beautiful finish. Our doors are composed of several materials. They include a water-resistant polymer material, reinforced with laminated veneered lumber, with a high-density insulated core and a thermoset GRP skin. Furthermore, Composite door materials used to produce a stylish and durable door.
What are the benefits of a composite door from St Helens Windows?
There are many benefits of ordering a composite door from St Helens Windows. Firstly, you will be ordering from a company that has been trading for over two decades. Secondly, our team of professionals supply and fit composite doors for our Northwest customers. Thirdly, you can tailor your door to your needs with our online door designer tool.
Additional benefits include:
A high impact resistant GRP skin

Options for a colour match frame

A woodgrain effect, giving a beautiful finish

An extensive range of glass designs
Request your complimentary composite door brochure today.
Explore our free composite door brochure from the comfort of your own home, showcasing some of the best door composites available. The brochure includes detailed information about our composite doors, designs, colour options, accessories, and glass options. In addition, we have a fantastic selection of home improvement brochures that are jam-packed with inspiring ideas for your home.
What composite door style are you looking for?
Problem requesting a quote? Email sales@sthelenswindows.com with your request. Thanks 
What colour is the best for a composite front door?
We offer a wide variety of exterior door colours, with white interiors as standard. Giving you the uniqueness you seek when selecting new composite coloured doors. Furthermore, the designs and colours shown below are examples of our composite doors UK range. However, we do offer many of the illustrated doors in some of the available colours.
What glass designs are available for composite doors?
Use our composite doors online door designer and choose from a great selection of glass designs and colours. The right glass can be as individual as you and will give your composite door the extra kerb appeal that you are looking for.
Let's Discuss Your Door Composite Requirements
Book a FREE appointment – Send us your preferred day and time online today.
Start planning your future project