Why Choose Us For Composite Doors?
Create your dream composite door with St Helens Windows. Choose from a contemporary to a traditional design. Our composite front and back doors are manufactured here in the UK. Furthermore, the composite doors provide enhanced security by using a rigid polymer subframe, high impact resistant GRP skin and a high density insulated core, helping to make your home more secure. Our composite doors use a woodgrain finish to replicate the appearance of a wooden door. The woodgrain effect and design gives a seamless and beautiful finish to the doors.
Composite front doors and back doors help to reduce sound pollution with a weighted noise reduction of 31 decibels, meaning that your new front door will reduce the outside noise. Moreover, carrying out general maintenance on a GRP composite door is minimal. Composite doors are weather-resistant, plus our GRP composite doors boast excellent weatherproofing. Allowing the doors to keep the miserable weather out and retain the doors look for longer.
Furthermore, our Composite door range is available with a wide range of designs, colours, glass choices, fanlights and composite side panels. Using double glazing or triple glazing glass with A-rated energy efficiency makes our doors one of the most thermally efficient doors in the market. 19% more thermally efficient than your standard 48mm solid timber core composite door.
Call 01744 611203 and book your free quotation over the phone or email sales@sthelenswindows.com for more details.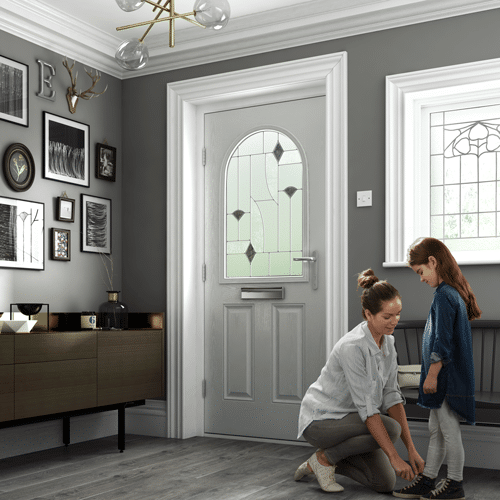 Online Composite Door Designer
Use our free online composite door designer from the comfort of your home to create your dream door. The online door designer is easy to use. Select your door design, colour, glass and accessories. Once you have completed choosing your door options, you will be able to view an image of your dream front door.
Please Note: The Online Door Designer App may take a few moments to load. Once loaded you're ready to design your dream door. Thank You.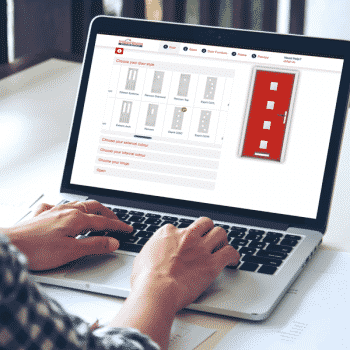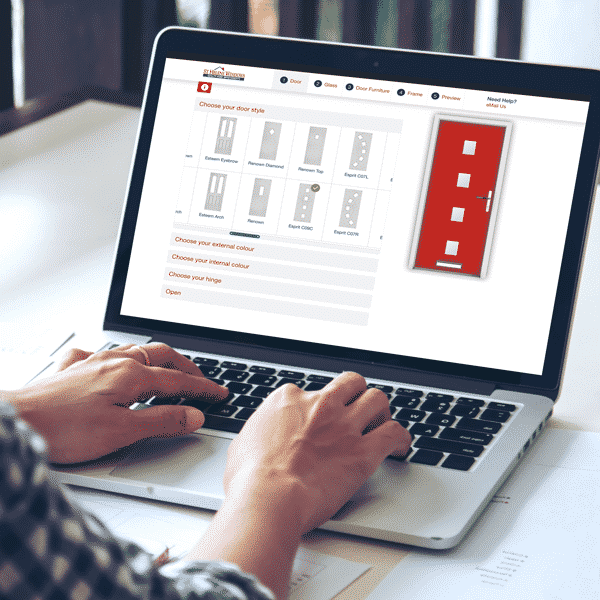 Great Savings On Stylish Composite Doors
Get Your Free No-Obligation Composite Door Quote From The Comfort Of Your Home Today.
Unique Composite Door Designs
Our team will help to design the perfect GRP composite doors for you. They will walk you through all of the design stages so that you can visualise the final product. We will help you to choose the right type of door for you. We have various styles, ranging from Traditional doors to Contemporary doors and Arched framed doors. All available in a selection of RAL colours, providing plenty of composite coloured doors to choose from with a choice of glass designs and accessories for your front door.
We also provide manufactured frames with fan lights for composite external doors. Create your dream door with the help of our design team.
Request A FREE Composite Door Brochure.
Browse our FREE Composite door brochure from the comfort of your home, illustrating some fantastic Composite doors on offer.
The brochure contains information on our Composite doors as well as designs, colour choices, accessories and glass designs. We have a great selection of Home Improvement brochures full of inspirational ideas for your home.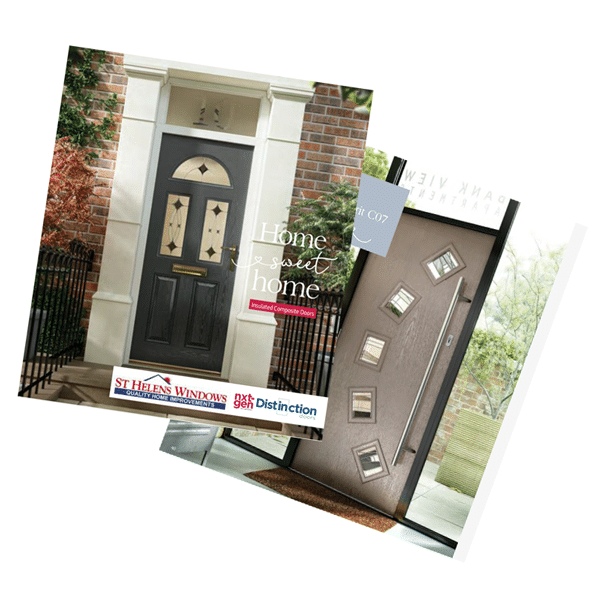 Composite Door Frequently Asked Questions
[ultimate-faqs include_category='composite doors faqs']
What Composite Door Are You Looking For?
Start planning your future project