Why Choose A uPVC Door From St Helens Windows?
St Helens Windows offers an excellent assortment of beautiful and versatile doors. We have the ideal uPVC door for any property. All these uPVC doors are made to measure. Helping to create the perfect front door for your home. 
The company manufacture doors a higher standard of exterior uPVC door while offering a competitive price. The uPVC front doors are available in a wide range of designs.
We supply some of the most reliable external uPVC doors in the North West of England. Our uPVC front door variety comes with uPVC door frames or supplies only. Furthermore, uPVC doors will be fitted by our very skilled and trained professional team.
Benefits of uPVC Doors
Great guarantees on all new doors.
Reinforced frame and door to make them more secure. (Optional)
Created to be weatherproof.
Long lasting materials.
Easy to clean and maintain.
Available in various colours.

Choose from an array of door styles.
Other Benefits Include
In-house manufacturered uPVC Door frames.
Professional uPVC Door Installers.
Supplyied and fitted by one company.
One of the top uPVC door companies in the North West.
Reduce noise from the outside with an insulated door.
More secure with ingenious multi-locking systems help keep our PVC door more secure. Additionally, uPVC beading prevents the glass from being removed from the outside of the door.
Many Designs And Styles Of Front And Back Doors
Picking a bespoke uPVC door can be a tough decision. Particularly with the diversity of doors available. At St Helens Windows we offer doors that are produced to measure. Making the door a perfect fit for your property.
We provide various uPVC door varieties to accommodate the customers' specifications. PVC doors are built strong and secure, easy to maintain. We have a large selection of excellent doors in several designs and door styles to choose from, making it ideal for you to find the best door for your home.
UPVC Doors Help TO Keep The Warmth In
Picking a new uPVC door with a selection of double glazed options can improve heat loss and energy efficiency in your home. Our A-Rated energy efficient uPVC doors are perfect for anyone looking for a new cost-effective replacement door whether it be a front door or back door. Furthermore, a uPVC replacement door can help homeowners to save money on energy bills in the long run.
Do You Need Help Finding The Right Coloured uPVC Doors And Frames?
We are here to help. A member of our expert door team will be happy to help you find the perfect uPVC door with side panels for your home. Furthermore, you can stop by our showroom on Jackson street St Helens to view our doors. For more information please call us on 01744 611 203 for a free quotation.
Request A uPVC Door Brochure
Relax and find your dream door. Our comprehensive door brochure will help. Inquire about our uPVC door brochure. This brochure contains information about the uPVC doors, including designs, colour choices, accessories and glass designs.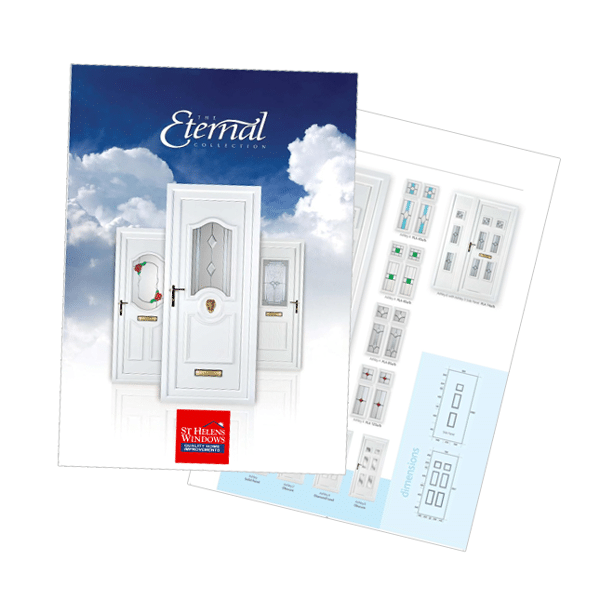 Great uPVC Door Savings - Sale Now On
Get A Free No-Obligation Quote Today From Our Specialist Team.
Let's Discuss Your uPVC Door Requirements
Book a FREE appointment – Send us your preferred day and time online today.
Start planning your future project