Spacious P Shaped Conservatory With Solid Tile Roof
P shaped conservatory designs can extend the living space of your home.
A P shaped conservatory is a great way to increase the natural light in your house. We can take the stress out of your home renovation with our committed professionals. Plus, a P shaped conservatory with a solid roof can provide a functional living space 365 days a year.
Our P shaped conservatory designs often come with a solid brick base but can also be full-length glass. Plus, our team of fitters can colour match the brick foundation with your current brickwork. That, in combination with a solid roof, can help sustain the heat inside the home, that can give the most out of your conservatory.
Benefits of a P shaped conservatory:
Outstanding Value

Open living area

Full insulation

Boosts home value
If you want to know about any of our P shaped conservatory ideas, get in touch on 01744 611 203. We are more than happy to help.
Solid Roof With Spacious French Doors
The P shaped conservatory on the right increases the homes living area and enhances the natural light. The shape allows for a range of applications, and the efficient solid tiled roof allows for year-round usage. These versatile extensions combine style, elegance and functionality, making them an excellent choice for your home.
We always fit energy-efficient windows to provide a useful extension with a beautiful view of the outdoors. Typically, our P shaped conservatory comes with Patio, French or bi-fold doors. Though, if you want something with a different style, our team members can take you through the process.
Other Options
Some of our popular designs include:
A Garden Room: These are a crafty way to increase the area of your house. They offer an eye-catching separation from your back garden.
Bright Glass Roofs: Glass roofs are a great way to enjoy the variable British climate. It magnifies natural light in the house and can control insulation.
Spacious T Shape: These are an original design that gives you an ample living area. They are an exceptional choice for large properties.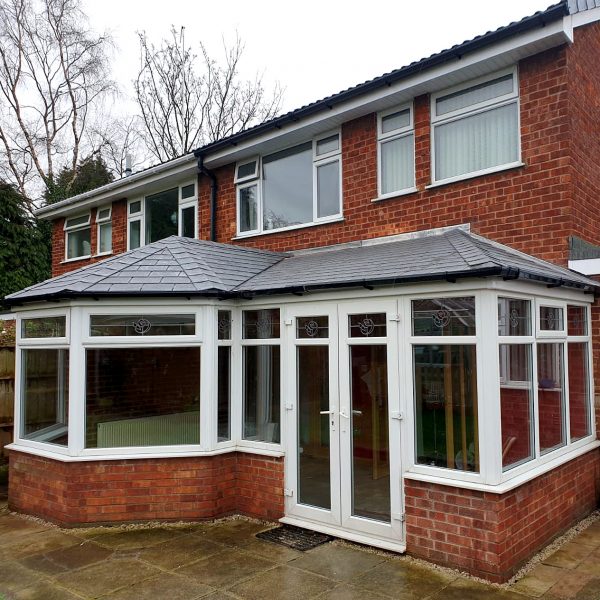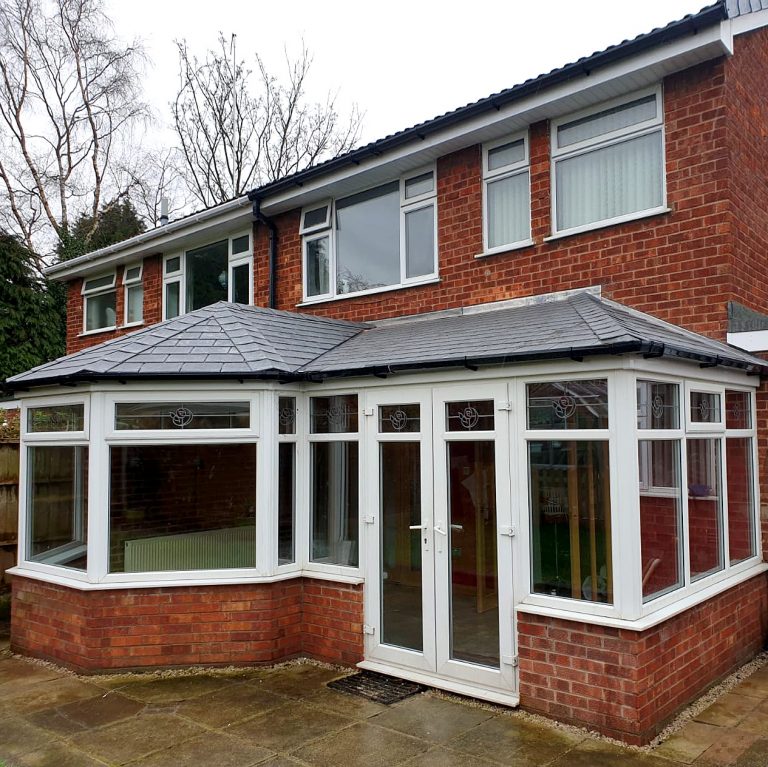 Learn More about our P Shaped Conservatory
Design the perfect home with a helpful brochure. We take pride in our projects and customer satisfaction. Plus, we have a full list of services to finish the look of your home. To get one of these brochures, fill in the form below, and our team will be in touch.
Find Out More About Our Complete Range Of Conservatories
We offer a comprehensive list of conservatory styles to give your home a fashionable aesthetic.
Does My Property Need Planning Permission?
Planning can depend on several mixed factors. But, most conservatory designs don't need permission. If you do, we have an expert team to help. The process can differ from home to home, and if you are unsure, our team will be happy to help.
Stylish RAL Colours
We have a blend of RAL colours to suit your home. Whether you are looking for general or distinct, we have a shade for you. Some of our popular picks include slate grey, cream uPVC and white. Also, if you want something to fit your current wooden frames, we offer a variety of wood grain.
Reliable Door Choices
Our P shaped conservatory designs commonly come with either french, sliding patio or bi-folding doors. They can be uPVC, aluminium or wood and present a continuous path to the garden. If you have another idea in mind, give our team a call. Our team can talk you through our range of doors.
Bi-folding
These are customarily three glass panels which open fully and fold away effortlessly. Giving your home an entrance to the outside.
Sliding Patio
Laying flat against each other, patio doors can extend the usable space of your extension. They operate on steady runners, making them smooth to operate.
French Doors
The french design comes in a variety of colours, styles and accessories. Offering a striking entrance into the garden.
Start planning your future project