Which types of windows offer the most energy efficiency?
Our energy-efficient replacement windows are ideal for homeowners looking for a new type of distinctive window to make their homes stand out from the crowd. Plus, our double-glazed window frames are both stylish and energy-efficient. Furthermore, we use some of the best window materials on the market and, most importantly, provide you with some of the highest-quality window types. 
Are you concerned with rising energy bills? Firstly, we offer customers one of the best A-rated energy-efficient double-glazed profiles on the market. Secondly, St Helens Windows is a trusted double-glazing window manufacturer with over two decades in the double-glazing and uPVC window industry.
Furthermore, double-glazed windows can vary from period to heritage to new construction. At St Helens Windows, we understand that the phrase one size fits all is not always the case. So, we offer replacement uPVC windows and aluminium windows to suit your home. 
Our team of professional fitters supply and fit double-glazed, energy-efficient windows tailored to your home. Choose from window styles, including casement window types and sash double-glazed windows. Plus, the stylish and distinctive tilt-and-turn window system.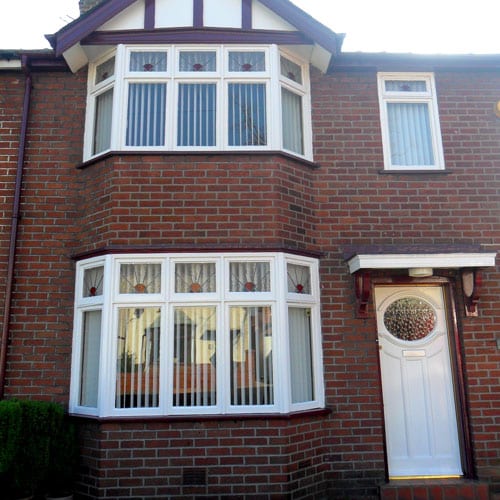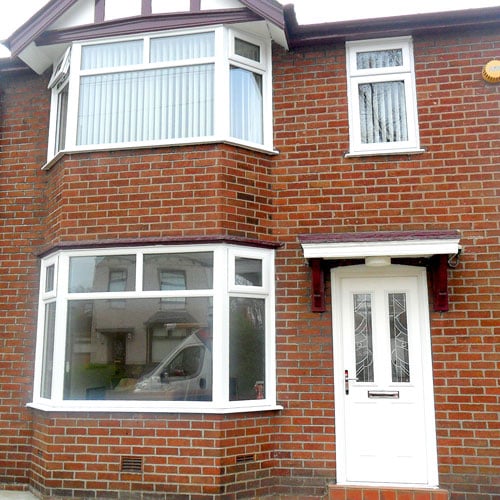 How are window frames manufactured?
Our team of professional fabricators manufactures a wide range of home improvement products at our factory, including conventional uPVC window styles and the on-trend aluminium window system. 
Furthermore, we are one of the leading North West window uPVC suppliers, supplying and fitting distinctive windows to the North West. Our window installers and manufacturers provide and install A-rated double-glazed windows. The types of windows we offer come with a choice of sourced toughened St Helens glass.
Furthermore, our goal is to achieve affordable, energy-efficient, quality products for your home improvement projects. We strive to provide excellent products at affordable prices. Plus, we manufacture using a quality type of energy-efficient window uPVC profile. 
Call 01744 611 203 and ask about our double-glazed A-Rated energy-efficient windows uPVC. St Helens is famous for being the home of glass. Furthermore, we are proud to supply quality sourced St Helens glass to its residents. 
What are the benefits of window double glazing?
A-Rated energy efficiency window

Double glazing uPVC St Helens Windows


Traditional and distinctive window frame styles

Modern uPVC windows f

rames in several colours

Woodgrain effect window choices

Aesthetic appeal, performance, and value

Among the best uPVC profiles on the market

Save money on energy bills and heat loss
Which kind of windows are you looking for?
What are the frequently asked questions for replacement windows?
Browse window frame styles from your sofa
Explore our free window brochure and get the guidance and motivation you may require to choose the perfect window type for your property. Furthermore, we have a variety of home improvement brochures filled with replacement window ideas. Add your name and email below to receive our complimentary brochure containing inspirational double-glazing ideas.
Get a great deal on double glazing from our window range
Request your FREE no-obligation window quote from the comfort of your sofa.
Are Aluminium Windows better than uPVC?
We offer an excellent choice of double-glazed aluminium windows. Our professional double-glazing windows team will help you to achieve the look and feel that you require. Furthermore, our aluminium window options include vertical sliding, horizontal sliding, casement windows, and many more. Get in touch today to find out more about our double-glazing products. Plus, allow us to help you choose the perfect aluminium window or maybe uPVC windows for your home.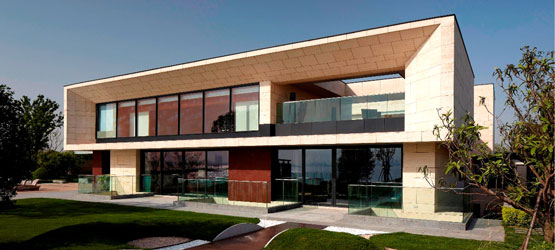 What colours are available for uPVC windows?
Choose from a selection of popular RAL colours for your replacement uPVC window styles. Our modern uPVC window stylish colours offer a beautiful, authentic wood-like finish for that contemporary look. Furthermore, replacement uPVC window colours include the on-trend shades of Anthracite Grey and Chartwell Green. Are you considering multiple window colours? Perhaps a Chartwell green type of window for the front of the house and a traditional white uPVC window colour for the double glazing at the rear of the property.
What colours can I get window handles in?
At St Helens Windows, we offer an extensive selection of replacement window handles in various colours. The following window handles illustrated below give you an idea of what colour you could have on your types of windows. To get more information on our complete collection of window handle colours, call 01744 611 203 and speak with a member of our friendly team.
How do I choose the right window style for my home?
Choose from a selection of uPVC window styles in various colours and sizes. We are a leading supplier of plastic windows in the North West. Plus, to find more information on the window styles, contact a team member on our online chat in the bottom right-hand corner of your screen or call 01744 611 203 and speak with a member of our friendly team about aluminium or uPVC windows.
*Please note that the arrow points indicate the location of the hinge on each frame.
Window style 79 is made up of 4 individual frames and is supplied as 4 indiviual frames and not 1 complete frame.
Finance options available for replacement window frames
Get finance on a fantastic range of replacement windows and other products.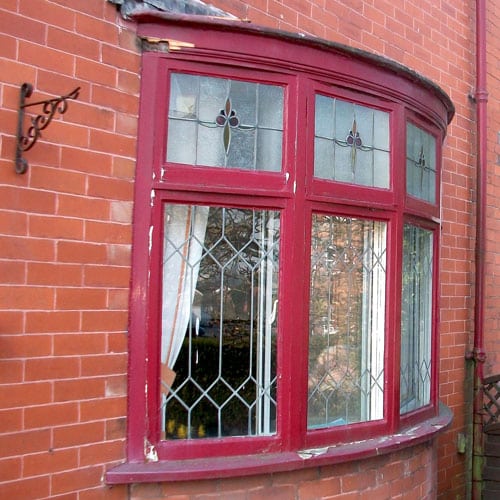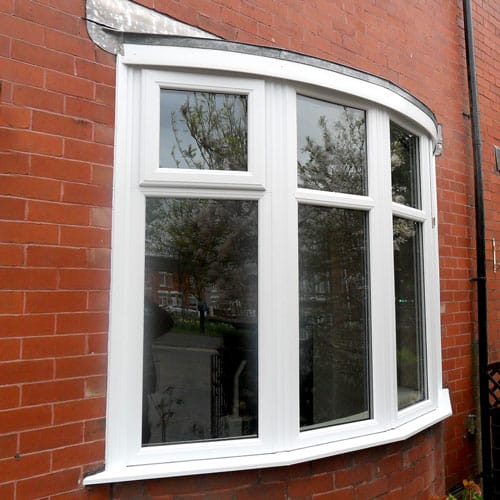 Can a bow window help with natural lighting?
Our bow uPVC window styles are exquisite and long-lasting because they are handcrafted by skilled craftspeople. The energy-efficient window option offers a beautiful window style that will complement a variety of homes. Furthermore, bow windows require little maintenance and are a dependable and long-lasting window option.
The bow window designs are curved, as opposed to the traditional bay window, which is square in shape. By projecting away from your property's wall, the bow window design can add space. Furthermore, it provides you with a more comprehensive view of your street or garden area. Check out our range of bow windows here.
How can I buy supply only uPVC windows?
We offer supply only energy rated & aesthetically pleasing replacement windows to trade.
Are you looking for different window styles?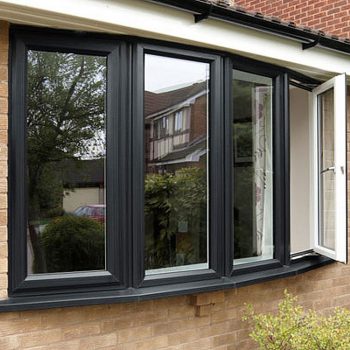 Aluminium windows are a stylish choice for any home. Their lightweight, durable design is a great way to modernise the look and feel of a property. Plus, they come in a range of designs and colours.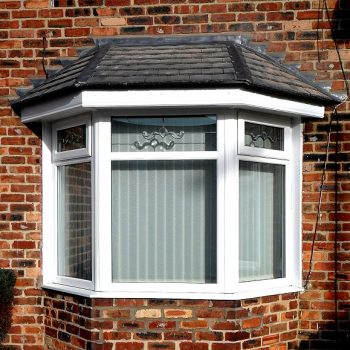 UPVC windows are amongst the most common choices for windows. That is because their design is a reliable, sturdy choice. Our uPVC windows come in any colour from our RAL colour chart.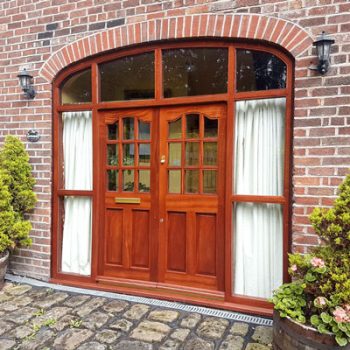 Timber windows are an excellent choice if you are looking to keep the authenticity of your building. We use a variety of durable timber, to ensure that you are getting a window suited to your property.
Start planning your future project