Spacious Extension Ideas With Energy-Efficient Lantern Roof
Make your house a home with our spacious extension ideas.
You can make a fashionable extension with our large extension ideas. Our designs not only increases the usable area but can raise the value of your home. We are here to take the strain out of your home repair. It's never been a better time to get started on your new home renovations.
The majority of our extension ideas come with a solid brick foundation. Although, we can fit full-length double glazing to create a dramatic view of the garden. To produce a smooth look to your home, our experienced team can colour match with the original brickwork. That is why we are a dependable option when it comes to your new extension.
Benefits of extension ideas:
Cost-effective

Greater living space

Thorough thermal efficiency

Can improve property value
If you want to know more about our extension ideas, call our team on 01744 611 203.
Lantern Roof with Steps Sweeping into the Garden
The extension on the right is a spacious design that creates an energy-efficient barrier into the garden. Plus, the lantern roof maximises the amount of natural light in the home. This spacious design is complete with steps that lead to the customers beautiful garden. Finally, our fitters take great pride in these extension ideas and aim to work closely with the customer to ensure the product is perfect. 
We always use A-rated windows that offer a charming view of the garden. That, combined with either Patio, French or bi-fold doors, creates a prominent talking point in your home.
Some of our Customer Favourites
Our popular designs include:
Garden Room: Garden rooms open up space at the rear of a home, making the most of the sunny weather. They offer a refreshing entrance into your garden.
Tiled Roof: A tile roof composes a valuable space all year-round. It shields the house against brisk weather and is extremely versatile.
T Shape: These are an extended plan that gives you abundant living space. They are a comprehensive option for large properties.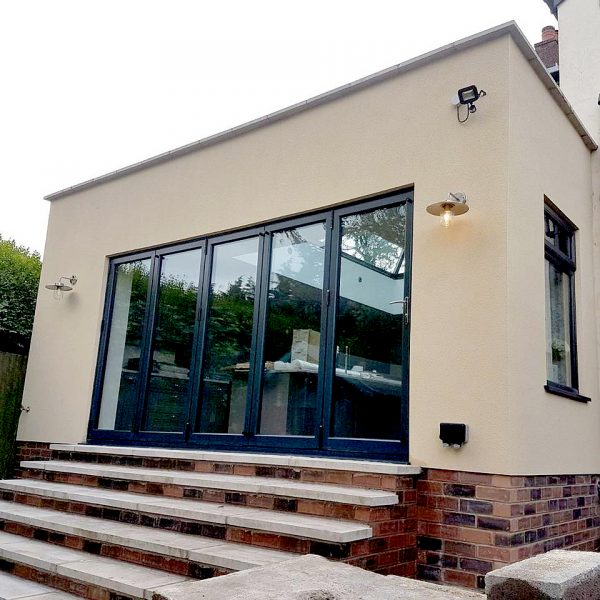 Learn More About Our Extension Ideas
Create an eye-catching living space with our extension ideas. To get this conservatory brochure, fill in the form here, and we will send one to you. We also offer a full list of products to complete your home improvements.
Finally, we take great pride in our customer connections, so if there is anything that we can help with, get in touch.
Find Out More About Our Complete Range Of Conservatories
We offer a comprehensive list of conservatory styles to give your home a fashionable aesthetic.
Does my extension need Planning Permission?
Most extension ideas don't need permission, and it depends on various factors. If you do need it, we have a skilled team on hand to advise. That is because we know planning can be an irritating part of home improvements. So, you can unwind knowing that we will get the job done.
Popular RAL Colour Choices
Our RAL colours come in a mix of tones and hues to accommodate your home. We can offer both original or modern colours. Plus, some of our customers' picks include anthracite grey RAL 7016, cream and Chartwell green. Furthermore, if you want something to match your existing timber, we offer a variety of realistic wood finishes.
Smart Doors for any Occasion
Our extension ideas commonly come with a french, patio or bi-folding door. They come in a choice of materials and create an opening into the garden. Though, if you want something a little more appropriate, give our team a call. Our specialists can talk you through our complete range.
Excellent Bi-folding Doors
Usually, three panes of glass, bi-fold doors open evenly and fold away. Presenting you with a comfortable entrance to the outside.
Sliding Doors
Patio doors can extend the available space of your house, sliding efficiently into each other. Operating on rails, these doors open quickly.
Solid French Doors
The french doors come in a mix of fashionable colours and designs. Unfastening in the middle to give you a route to the garden.
Start planning your future project