Benefits Of Converting Garage Spaces Into Practical Areas
Enhance the living area of your home by converting garage spaces.
Converting garage spaces can be unique and offers a versatile space for a range of uses. These cost-effective extensions boost the living area of your home. Plus, converting a garage can give you a well-designed home office or a practical home gym. At St Helens Windows we have been providing home-improvements for over twenty-five years, making us one of the best choices for you. 
If you like the look of these garage conversions and have any questions, our team are happy to help. Call us on 01744 611 203 to get your FREE quote available for up to 12 months.
Ideas For Garage Conversions
The client here chose to convert a garage space to create a larger living area. Firstly, the garage door was removed and replaced with a brick wall, window and door. That increases this extensions natural light and creates an energy-efficient barrier for the converting garage space. Also, to complete the look of this garage conversion, our team colour matched the brickwork to fit in with the rest of the extension.
Converting garage spaces can be a useful project for your home. The garage conversion is an excellent choice for a home office, gym or a playroom. Plus, in combination with our A-rated double glazing and an energy-efficient door, converting garage spaces is a useful upgrade.
Alternatives To Garage Conversions
Conservatory: If you want to create a beautiful extension at the front or back of a property. Conservatories allow you to enjoy the sunny weather and with a tile roof, you can utilise these extensions all year.
Orangery: A new orangery is a sharp combination of brick columns and double glazing. These orangeries are ideal for building a luxury room that the family can use as a quiet area. Furthermore, they have a variety of uses, making them a versatile choice.
If you have any questions about garage conversions and want to know more get in touch with our team. Our expert team can start your no-obligation FREE quote.
Get A Free Quote For Your Garage Conversion
We have a team on hand to help with any questions that you may have about our garage door conversions.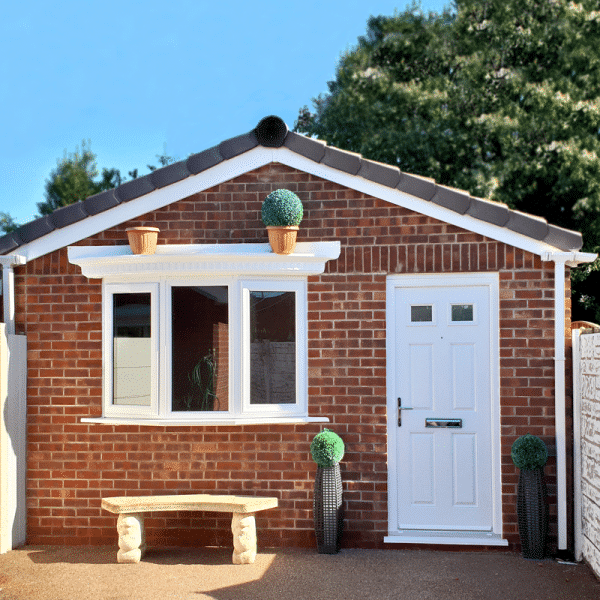 Try These Extension Styles
Find Out More About Converting Garage Spaces
Make the most out of your home by converting garage spaces. We have a brochure available to see our complete product range. This handy brochure can show you all the accessories you can have when converting a garage. Therefore, to get one of these brochures, fill in the contact form below.
We are always trying to expand our customer relations, so if you have any questions or want to know more, call our experts.