Door And Window Installation Throughout The North West
Update the look of your home with our trusted window installation.
Window installation is an excellent opportunity to raise the energy-efficiency of your home. Our VEKA profile combines with A-rated glazing to provide you with a top-quality result. Plus, we construct all of our windows in our St Helens factory to give you a handcrafted window for your home.
The traditional designs fit in with the majority of new and conventional homes. Plus, our windows are robust and low-maintenance. That is why the window installation of uPVC or aluminium frames is a practical choice for you. Furthermore, our windows incorporate a range of designs to suit your home. That develops the space of your property, giving you a more relaxing area. 
If you want to know more about our window installation, our team can answer any questions. Call our team on 01744 611 203 to start your free 12-month quote.
Window Replacement
The customer here chose to coordinate the windows and doors at the front of the property. That can help to increase the energy-efficiency of the home and create a flowing look. Plus, the beautiful oak brown fits in with the customers' sandstone red brickwork.
We fabricate and fit energy-efficient windows throughout the North West and combine the A-rated glass with the VEKA profile. That is why we have new windows to suit you.
Refurbish Your Home
If you aren't sure which window installation you need, we have a range of designs ready to suit your home.
Bow: Bow windows give you a spectacular picture of the outside and boost natural light. They are similar to a bay design with a rounder structure.
Tilt And Turn: The tilt and turn window is a convenient style and is easy to operate with a smart turn of a handle.
Casement: The casement window is a regular choice for window replacement in the UK. They are thermally-efficient, firm and can minimise outside noise.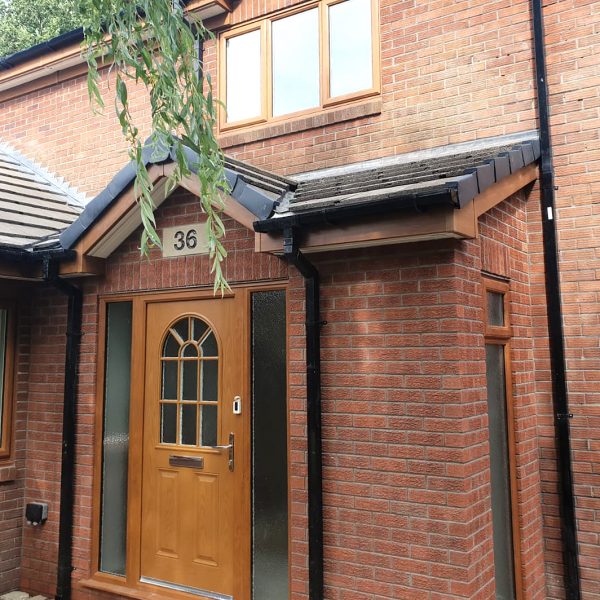 Traditional Window Styles
Get Inspired With A FREE Brochure
Start your door and window installation ideas with our handy brochure. Furthermore, you can see our entire selection of double and triple glazing and window accessories. To get one of these guides, fill in our form below.
We are always trying to grow our customer relations, so if you need help, call our team.
Get The Home Of Your Dreams With A Bay Window
Click to see our complete collection of bay windows and their benefits.