White PVCu Vented Windows With Casement Design
Keep the air flowing through your home with our vented windows.
Vented Windows is an excellent opportunity to draw in fresh air without having to open the double glazing fully. Our VEKA profile links with A-rated glazing to provide you with one of the most reliable window profiles on the market. Plus, we build all of our windows in our St Helens factory to give you a handcrafted window for your home.
The casement designs fit in with the majority of new and conventional homes. Plus, our frames are stable and low-maintenance. That is why the uPVC vented windows are a sensible choice for you. Moreover, we have a range of window designs to suit your home. 
If you want to know more about our vented windows, our team can answer any questions. Call us on 01744 611 203 to start your free 12-month quote.
Energy-Efficient Windows
The customer here chose a spacious casement style at the front of the property. Therefore, helping to boost the natural light that penetrates at the entrance of the house. The customer also chose a popular white uPVC to prevent the windows from looking dated.
We manufacture and install energy-efficient windows throughout the North West and incorporate the A-rated glass with the VEKA profile. That is why we have vented windows to suit you.
Design The Perfect Windows
If you aren't sure which vented windows you need, we have a variety of designs ready to suit your home.
Bow: Bow windows are an arced shape that gives you a spectacular picture of the outside and boost natural light. They are similar to bay design.
Tilt And Turn: The tilt and turn window is a modern style that is easy to operate with the turn of a handle.
Casement: The casement window is a frequent choice for window replacement in the UK. They are energy-efficient, durable and can minimise outside noise.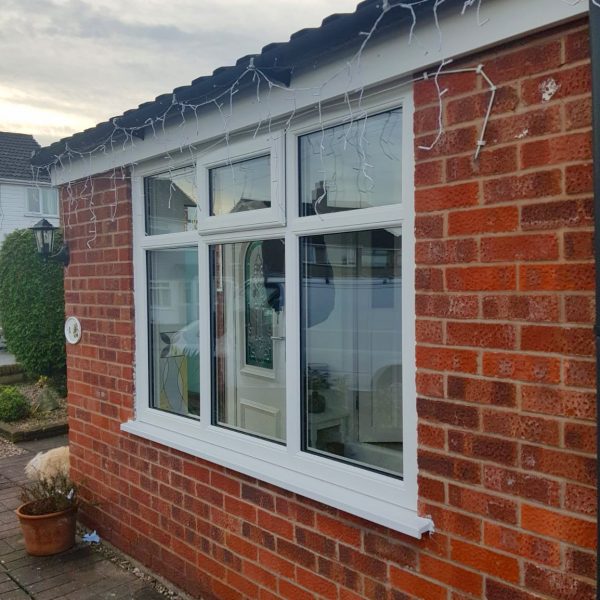 Traditional Window Styles
Get Inspired With A FREE Product Brochure
See which vented windows suit your home with one of our helpful brochures. Furthermore, you can see our full selection of double and triple glazing and window accessories. To get one of these guides, fill in your details on the form below.
We are always trying to expand our customer relations, so if you have any questions or need advice, call our team.
Stay Insulated With Our Casement Windows
Click to see our complete collection of casement windows and their benefits.