Spacious UPVC Porch With Pitched Solid Roof
A Large UPVC Porch Can Separate Your Living Area
UPVC porches are an excellent way to extend the living area of your property. Watching the rain splash against the windows on a warm autumn evening. The wide PVCu porch gives the family an extra living space allowing natural light to enter into your home. Furthermore, a front extension helps to keep the cold weather outside.
A front extension continues to be a functional addition to any property. We tend to build our porches to the front or the side, extending the living area and separating your home from the outside world. A porch is a fantastic way to enhance the volume of natural light in your home. Porches create extra storage and are a great place to keep dirty shoes and wet coats without trailing them through your home. 
The Smart uPVC Porch
We have a series of porch designs available to suit almost any property. The uPVC porch with a Pitched solid roof is a modern style working closely with the clients' preferences. Our professional team built this spacious porch design to improve the natural light at the entrance of the property, with our A-rated double glazing windows. Additionally, the Pitched solid roof protects the extension from the weather, draining water away from the property. The cladding between the Pitched solid roof and the windows gives this extension a sleek, professional finish. So, if you are eager to find out more and get started with your new extension, call our skilled team on 01744 611 203. 
New Porch Styles
We have a range of porch styles available:
Solid Brick: These brick porch designs consist of a solid brick foundation, often completed with energy-efficient double glazing to let in the natural light. 
Canopy Porch: Often attached with front or rear porches over the top of a door to enhance protection. Pillars often accompany these porches to create a barrier.
Side of House: Traditionally seen on smaller and modern properties, side porches build extra space without impairing the view of a front window.
Find the porch of your dreams, view our gorgeous examples and ideas here.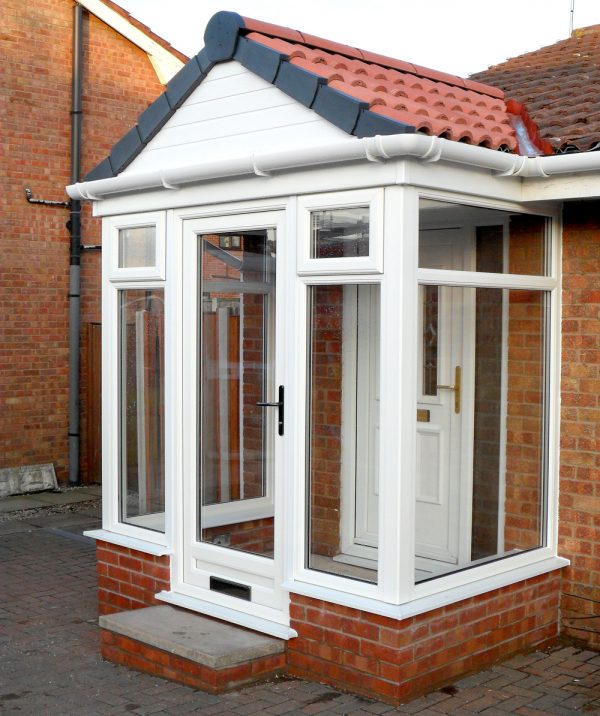 Choose A Fashionable Porch Door
Take A Look Through Our Range Of uPVC Porch Designs
We can present you with a FREE brochure, full of inspiring ideas. Our specialist team offer a selection of uPVC and brick porches. Additionally, we provide a comprehensive range of services to get your home improvements done. To get one of our porch brochures, fill in your details below and get inspired with a new front porch.