Half Brick Side Porch With Pent Roof
A Side Porch Can Increase The Living Area Of Your Home
Side Porches are a unique way to create extra living space in your home. Watching the snowfall on a cosy winters night, stood sipping a cup of mulled wine, a side porch creates a protective barrier to the outside world. Give your home the makeover it deserves and get started on your new brick or uPVC porch.
A side porch continues to be a relevant extension to any home. Traditionally, we build our porches to the front or side of a property. Therefore, extending the living area and protecting the front of the property from adverse weather. A side porch magnifies the volume of natural light in your home. Our porches aim to build additional storage and provide a space to keep muddy shoes and soggy raincoats without tracking them through the house. 
Side Porches With Black Composite Door
We have a range of front or side porches to suit almost any property. The small side extension separates the main living space, giving a more spacious feeling to the house. Additionally, the broad double glazed windows allow for a generous amount of natural light to enter. The design here has a pent roof that runs the full length of the extension, with efficient guttering taking water away from the property.
To complement this porch, the customer chose a beautiful Eclat Arch composite door. We have a series of porch doors available that come with contemporary glass designs. So, if you want to know more about any of our doors or glass designs, call our experienced team on 01744 611 203. 
Front Extension Ideas
We have a series of porch designs available:
Brick Porch: These brick porch ideas consist of a stable foundation, often built up with energy-efficient double glazed windows.
Canopy Porches: Often associated with a front or rear porch, over the top of a door to improve the shelter. We often accompany these porches with pillars to create a barrier into the garden.
Front Porch: Commonly seen on more traditional properties, a front porch creates extra space and storage. These front porches look great with a black composite door.
Find the porch of your dreams, view our gorgeous examples and ideas here.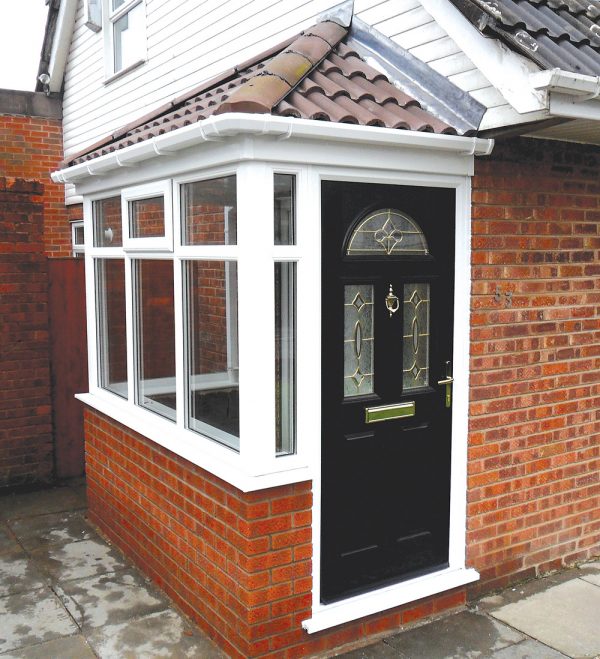 Choose A Stylish Porch Door
Find A Porch To Suit You
Get inspired with one of our FREE porch brochures, full of stylish ideas for your home. Our specialist team offer a choice of uPVC and brick porches. Furthermore, we provide a broad range of services to help improve your home. To get one of these brochures, fill in your details below and get inspired with a new front extension.