Double Rock Door With Beautiful Ornate Glass
Our stunning rock doors are an excellent option to improve the look and efficiency of your home.
Rock doors are a robust choice and can improve the aesthetic of your home. These designs are practical and give an energy-efficient barrier. Plus, your doorway combines your creative flair to the front or rear of your property. That is why we have one of the best rock doors for you.
Our rock doors are unique and add an element of class to the front of your home. Plus, we can offer our doors in over twenty-five styles and colours. We can offer a mixture of glass decoration and accessories, allowing you to design the perfect rockdoor for your property.
If you like the look of this rock door and have any inquiries, our team are happy to help. Call our team on 01744 611 203 to get your complimentary quote available for up to 12 months.
New Door Designs
The robust rock door fits in well with the customers' broad entrance and pattern brickwork. Also, the wood effect two-door design opens onto the customers' front pathway, making the appearance much more open. Plus, these stunning doors mix class, quality and usability.
Our rock doors are unique to the customer and can suit almost any home. Therefore, you can be sure to get a professionally installed door. Plus, with our robust glass units, the rock door can help to reduce noise.
Modern Door Styles
If rock doors aren't your style, we have a few choices that could suit you. 
Composite: These smart doors usually consist of a robust insulated core. They come in a variety of colours and can be designed uniquely to your home.
UPVC: An energy-efficient door that helps to raise the energy-efficiency of your home. They come in a range of colours and natural wood textures.
If you have any questions about any of our rock door ideas and want to know more, get in touch with our experts. They can also help you get started on a no-obligation FREE quote.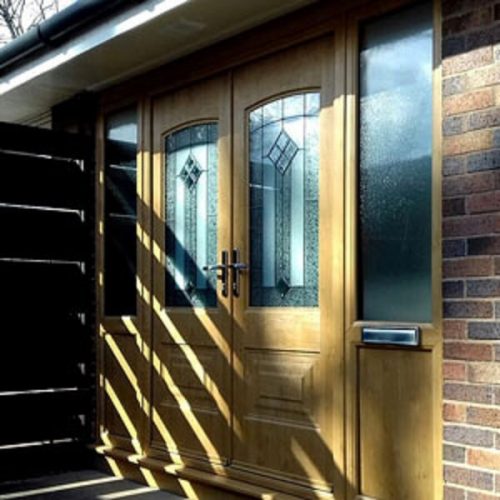 Choose From A Range Of Ornate Glass
Get Your FREE Rock Door Brochure
Build the perfect barrier to your garden with a fantastic wood door. However, if you want to see our composite door collection or uPVC doors, check out our convenient brochure. To get one of these handy guides, fill in your details on the contact form below.
We always aim to improve our client relations, so if you have any questions, call our experts.
Get A Free Quote For Your New Set Of Doors
We have a team on hand to help with any questions that you may have about our French door choices.