Rear Porch With Pent Roof And An Eye-Catching Red Door
A rear porch can provide a welcome barrier.
Rear porches are an excellent way to keep the outdoor separated. They provide a clean space to leave your shoes on a sunny weekend gardening or keeping the warmth inside on a cosy autumn morning. The unique brick rear porch has a range of benefits to improve the functionality of your home.
Generally, we build our porches to the face or the side of a property, intending to extend the living area. However, these brick rear porch ideas are a practical addition and help to keep the home more energy-efficient. We work collectively with the customer to produce a unique extension. Additionally, our experts offer an assortment of uPVC or composite porch doors to give your property a stylish finish. 
Pent Roof To Remove Water Efficiently
We can build a range of brick and uPVC porches to accommodate almost any design style. The brick rear porch here has a solid brick finish, with a complimentary classic red composite door. The design helps to keep the warmth in and provides a practical entrance into the garden. On this porch, the customer asked us to leave a narrow gutter around the bottom so they could fit their own finishes to the design. If you want to out more about any of our brick porch designs, call our specialist team on 01744 611 203. 
Other Porch Designs
We have a whole list of extension styles available:
Regular Brick Porches: We raise our brick porches from a stable base, with A-rated double glazing. They come with either a pitched or pent roof.
Weather Resistant Canopy: Often connected to the front or rear of a home, porch canopies are fixed over the top of a door to offer shelter. 
Modern Front Porches: Generally seen on larger, more traditional homes, a front porch creates more space and storage.
View Our Comprehensive Range Of Eye-Catching Porches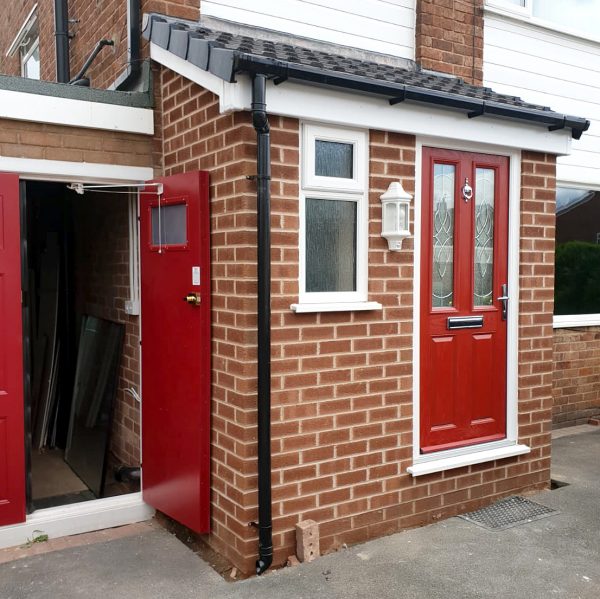 Choose A Composite Door To Match
Porch Ideas To Improve Your Property
Get inspiration for your home with our free porch brochure, full of contemporary designs. Our expert team offer quality uPVC and brick rear porch ideas. Additionally, we offer an assortment of services to get the most out of your property. To get one of these inspirational brochures, fill in the form below, a member of our team will be happy to help.