Tile Porch Roof with Side Facing Door and Front Window
A tile porch roof can improve the energy-efficiency of your home.
Our tile porch roof is a great way to create extra living space in your home. Watch the snowfall on a cosy winters night, stood sipping a cup of mulled wine under the porch roof is a perfect way to use the extra living space. Therefore, give your home the makeover it needs and get started on your new tile porch roof build.
A porch proceeds to be a compatible extension to almost any home. Generally, we build our porches to the front or side of a property. Therefore, enlarging the living area and shielding the front of the property from unfriendly weather. A porch roof with a front-facing window magnifies the amount of natural light in your property. Our porches aim to create additional storage and present an ideal space to keep muddy shoes and soggy raincoats. 
Tile Porch Roof With White uPVC Door and Matching Canopy
We have a range of porch ideas to suit almost any home. The small extension separates the main living area, giving a more efficient space to the house. Plus, the broad double glazed windows on the front lets a generous amount of natural light to enter. The design here has a pent porch roof that matches the window canopy, with useful guttering to guide water away from the house.
To complete this porch, the client chose a beautiful uPVC door. We have a variety of porch doors available that come with modern glass designs. Therefore, if you want to know more about any of our porch roof designs, call our expert team on 01744 611 203. 
Optional Porch Ideas
We have a range of porch designs available:
Brick Porches: These brick porches consist of a solid base, built up with A-rated double glazing.
Porch Canopies: Often linked with the front or rear of a property, over the top of a door to enhance the shelter. These porches are designed with pillars to create a barrier into the garden.
Front Porches: Ordinarily seen on more traditional homes, a front porch creates extra space and storage to separate the home.
Find the porch of your dreams, view our gorgeous examples and ideas here.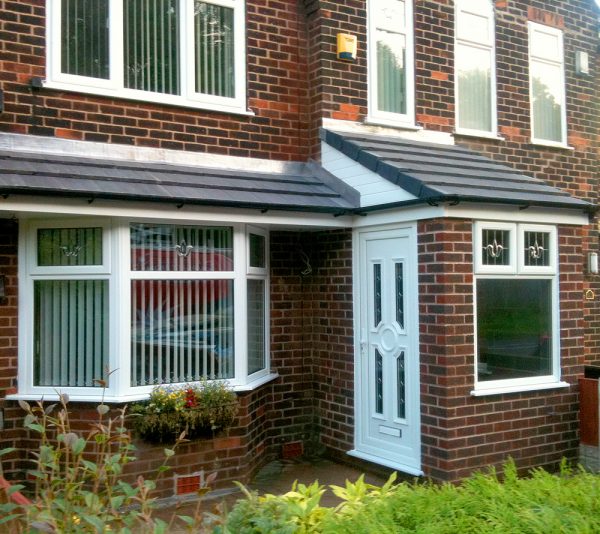 Choose from our Stylish Glass
Find A Porch Roof To Suit You
Get inspired with one of our handy porch brochures, full of stylish designs for your home. Our professional team can build a variety of uPVC and brick porches. Plus, we provide a complete range of services to help improve your home. To get one of these helpful brochures, fill in your details below.
Finally, we take great care in our customer relationships, so if there is anything that we can help with, get in touch. We will always strive to complete a job to the best of our ability.