Porch Ideas With Complementing Window Canopy
Porches Can Accommodate Any Home
Porch ideas are an excellent way to create additional living space in your property. Enjoying the sunrise on a fresh spring morning, allowing natural light to shine through into the front or rear of your property. These porches are a fantastic way of separating your home from the outside world.
A front porch continues to be a valuable extension to any property. Traditionally, we build our porches to the front or side of a property, extending the living space and creating a barrier from the outside world. A uPVC porch is an excellent way to magnify the volume of natural light in your home. Our porch ideas create additional storage and provide a space to keep dirty shoes and soggy coats without trailing them through the house. 
Porch Ideas Integrated With Existing Bay Window
We have a series of porches available to suit almost any property. The small front extension encapsulates the bay window beautifully. Plus, with the half brick base and the large double glazed windows, it allows natural light to enter into the home. The design pictured has a pent roof covering both the bay window and the porches. That helps to efficiently direct water and adverse weather away from the property. For these porches, the client wanted a uPVC door, which fits in perfectly with the uPVC windows. We offer a range of stylish PVC doors or composite doors to suit any of your home improvements. So, if you are interested in any of our porches and want to know more, call our experienced team on 01744 611 203. 
New Porch Ideas
We have a range of porch designs available:
Brick Porch: These brick porches consist of a stable foundation, often equipped with energy-efficient double glazed windows to let in the natural light. 
Canopy Porches: Often associated with a front or rear of a property, over the top of a door to enhance protection. Pillars often accompany these porches to create a barrier.
House Side Porch: Traditionally seen on smaller properties, side porches create extra space without impairing the view of a front window.
Find the porch of your dreams, view our gorgeous examples and ideas here.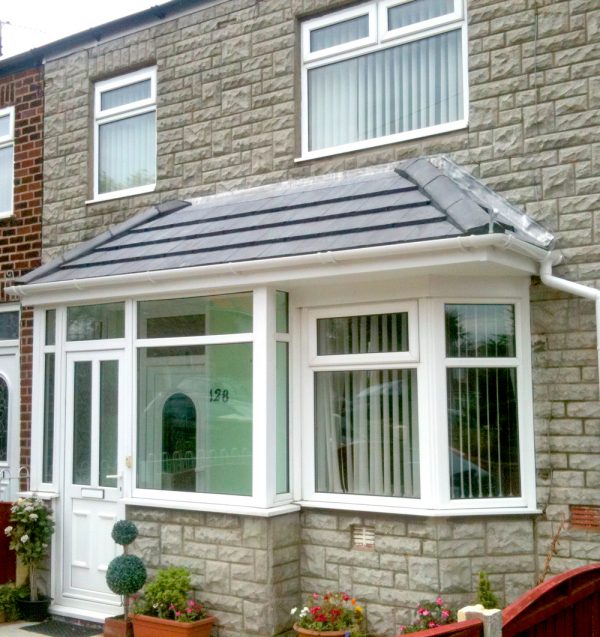 Choose From Our Stylish Glass
Take A Look Through Our Range Of Porches
Get a FREE porch brochure, full of inspiring ideas for your home. Our expert team offer a selection of uPVC and brick porches. Plus, we provide a complete range of services to get your home improvements done. To get one of our porch brochures, fill in the form below and get inspired with a new front extension.