Dark Blue Composite Porch Doors With Double Glazing
A Front Porch Can Enhance The Natural Light In Your Home
Porches are a practical way to boost the living space in your home. Imagine not having to worry about trailing wet clothes through the house and throwing your shoes and coat behind the porch door. These contemporary extensions are an excellent way to separate your home from the outside world. Give your home a jaw-dropping entrance and get started on your new glass porch.
Frequently, we build our porches to the front or the side of a property, aiming to expand the living area. We always work closely with the customer to ensure a well-designed extension. Furthermore, we offer a selection of uPVC or composite porch doors to finish your fashionable extension. The porch doors are energy-efficient and make a welcome addition to the front of any property.
Blue Front Porch Doors With Matched Brick
We have a variety of brick, uPVC and glass porches to suit almost any design style. The square design with full panoramic double glazing maximises the amount of light that enters into the porch. Furthermore, the step leading up to the porch door creates a welcoming entrance for their family and friends.
We always use A-rated glazing in our extensions as standard. The double glazing, combined with the energy-efficient porch door ensures a professional standard throughout the expansion. If you have any questions about our extensions or our porch doors, call our experienced team on 01744 611 203. 
Porch Ideas To Suit Any Home
We have a complete list of porch styles available:
Brick: A brick porch consists of stable support, built up with energy-efficient double glazing. They come with a choice of a pent or pitched roof.
Canopy: Often attached to the front or rear of a property, canopy porches are fitted over the top of a door to create a shelter. We regularly build these porches with columns to create a barrier into the garden.
Front: Generally seen on larger, more traditional homes, a front porch creates supplemental space and storage.
Design the perfect room today, view our luxury porch ideas here.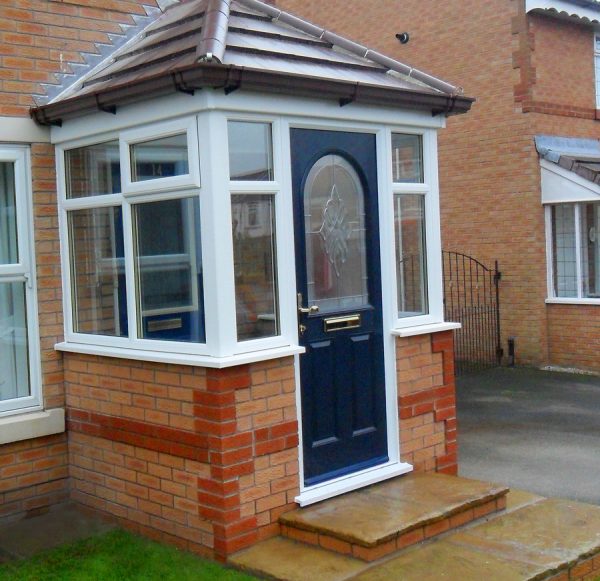 Colours For These Stylish Porch Doors
Design A Porch For Your Home
Get inspiration for your renovations with our complimentary porch brochure, full of fashionable designs. Our specialist team offer a variety of uPVC and brick porches. Additionally, we provide a broad range of services to get the most out of your home. To get one of these helpful brochures, fill in your name and email below.