White Plastic Doors With Ragley Style And Decorative Glass
Design the perfect entrance to your home with a white plastic door.
Our plastic doors can be unique and renew the look of your property. These doors have a sharp design and provide an efficient barrier. Plus, your front door allows you to add creative flair to your house. That is why we have one of the best plastic door choices for you.
Another reason to choose St Helens Windows is that our PVCu doors are easy to maintain and are notably durable. To help you plan the whole door, we can offer a blend of glass decoration and accessories. Therefore, designing a robust door that you are proud to own.
If you like the look of these plastic doors and have any questions, our team are happy to help. Get in touch on 01744 611 203 to get your FREE quote available for up to 12 months.
New Door Designs
The white PVCu fits in flawlessly with the clients' dark pattern brickwork. Plus, the Ragley design compliments the customers PVC panels, creating a beautiful finish. That gives these doors a mix of quality, character and usability.
We create our external glass doors in our St Helens factory. Therefore, meaning that each product is unique to the customer and ensures a perfectly fitted door. Plus, with our thermally-efficient glass, these glass doors can help to decrease outside noise.
Modern Door Styles
Composite Doors: If plastic doors aren't your style, we have a few options that could suit your home. These robust doors consist of a thermally-efficient core. They are a smart choice to update the look of your home. Our composite doors come in a range of colours and styles to complete the look of your home.
If you have any questions about any of our door ideas and want to know more get in touch with our team. Our team can start your no-obligation FREE quote.
Get A Free Quote For Your New Set Of Doors
We have a team on hand to help with any questions that you may have about our French door choices.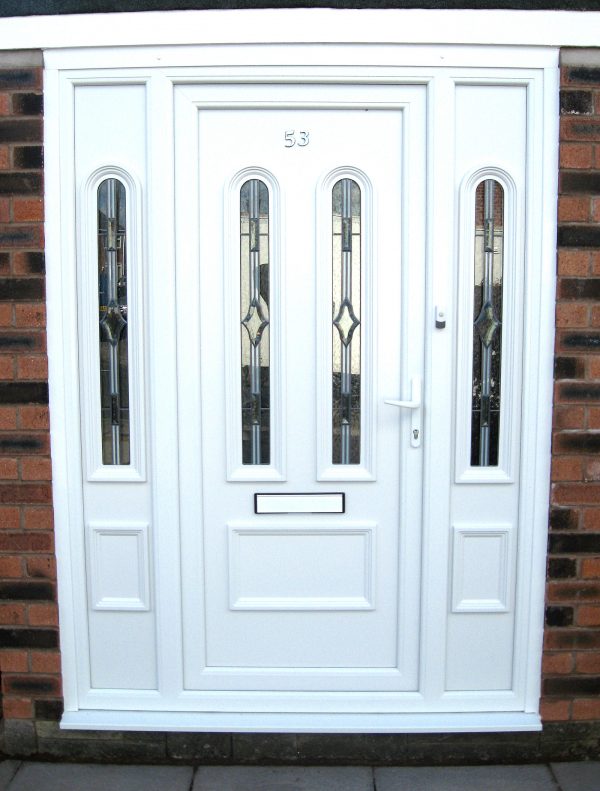 Popular PVCu Door Choices
Get Your FREE uPVC Door Brochure
Create a stunning front entrance with our beautiful plastic doors. Furthermore, if you want to see any of our other door designs, check out our handy brochure. To get one of these brochures, fill in the contact form below.
We are always trying to develop our customer relations, so if you want to understand more or have any questions, call our experts.