Spacious Orangerie Ideas with Glass Roof and Full Length French Doors
Our Orangerie ideas can boost the living space of your home.
Create an ideal home with our beautiful Orangerie ideas. They are a fantastic way to expand the usable space and increase the value of your home. Moreover, our team can take the strain out of your home repairs.
Our Orangerie designs usually come with a stable brick base, built up to hold the insulated roof. All of our double glazing comes with A-rated glass, giving a stunning view of your garden. To finish the look of your house, our team can colour match the Orangerie to your existing brick. Plus, we have been helping people with home projects for over twenty-five years, making us a reliable choice for you.
Full-Length Double Glazing with Stylish Glass Roof
We have a variety of Orangerie ideas to suit almost any home. The extension here joins the rear of the house with the main living area. The glass skylight complements the spacious design, drawing in more light. Plus, modern Orangerie ideas create an individual appeal that can be a talking point among friends and family. The flat roof design with a glass lantern works effectively and channels water away from the property.
To complete these Orangerie ideas, the client chose a stunning set of full-length windows that provide a view to the front of the home. But, if you want something a little more unique, we can offer patio and bi-folding doors as well. If you want to know more about our Orangerie ideas, call our team on 01744 611 203. 
Garages, Porches and Conservatories
We have a series of plans available:
Porches: Our porches consist of a firm base, built up with A-rated double glazing and a solid roof.
Clever Conservatories: They are one of the best ways to enjoy the most of the British summer. These extensions come complete with either solid, glass or polycarbonate roofs.
Garage Conversions: An effective way to make the most of your worn, unused garage. Garage conversion offers a convenient space for storage, home office or gyms.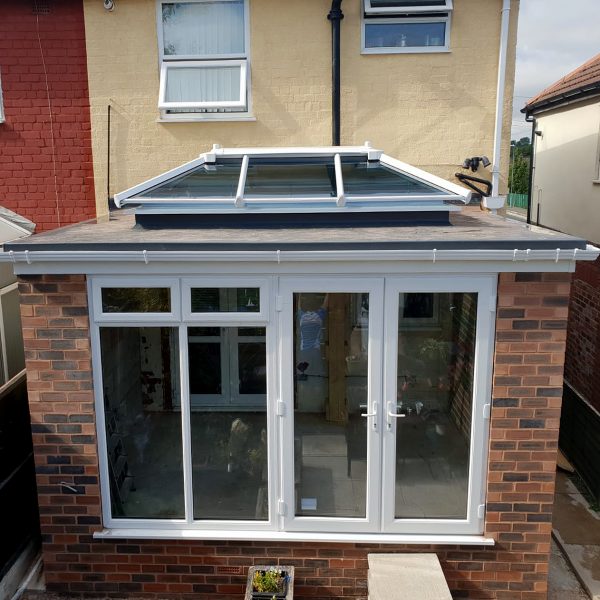 Orangerie Ideas to Suit You
Get inspired with one of our handy Orangerie ideas brochures, full of stylish designs for your home. Our expert team can build a variety of unique orangeries. Plus, we provide a complete set of services to help improve your home. To get one of these original brochures, fill in your contact details below.
Lastly, we take great care in our customer connections, so if there is anything that we can help with, get in touch. Our skilled team are always more than glad to answer any questions you may have.
Take A Look At Our Complete Range Of Conservatories
We offer a comprehensive list of conservatory styles to give your home a fashionable aesthetic.
Start planning your future project