Modern Porch Benefiting From An Elegance Arch Composite Door
A Modern Porch Is An Ideal Living Space
When you hear the word porch, what does it make you think of, the summertime, leaving your front door open and letting the summer wind flurry through your home or maybe sitting comfortably watching the rain patter down your windows?
A modern porch remains a stylish and secure addition to any home. Nowadays houses are built with porches to the front or side of the house, giving them a unique look. A porch is an ideal living space, whether it's an extended front room or a side of the house extension for an effortless outdoor exit. Porches are a perfect addition to any home and are created uniquely to your specifications.
The Modern Porch Design
Our modern porches are available in several designs. The porch pictured is a recent build undertaken by our team at St Helens Windows. Furthermore, this generous porch benefits from a pitched lightweight solid tiled roof with additional light below the roof peak, plus additional lighting to illuminate the entrance during the evening. Moreover, you can see the left side of the porch is a solid brick wall and the right side has an ample size uPVC window, allowing natural light in through the porch. We have brick matched the brick to give an organic-looking extension to the property. The front door is a composite door from the Elegance range. The Arch black composite has the Trieste glass design plus addition glazed side panels fro extra natural light. To find out more about our modern porches or a traditional porch, contact our team on 01744 611 203 today.
Other Types Of Porches
Know your Porch style before choosing your extension:
Brick Porch: The brick style porches are usually like mini rooms, half brick accompanied with many windows that open and let in natural light. 
Canopy Porch: Canopy porches regularly hang over the front or rear entrance door, usually with pillars either side of the porch.
Side Porch: Often noticed on smaller homes, this type of porch covers one side of the house delivering extra space for your home.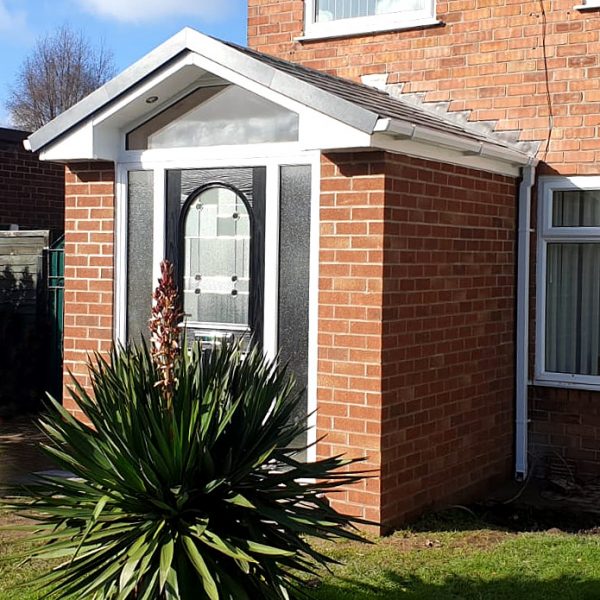 A Selection Of Composite Doors To Choose From
Choose A New Porch From The Comfort Of Your Sofa
Explore our FREE Porch brochure, filled with some fantastic porch ideas on offer. Discover various designs for brick porches throughout our comprehensive brochure. We have a large choice of Home Improvement brochures full of ideas for you, add your name and email below. The brochure contains information and inspirational front porch ideas to bring your home to life.