Modern Conservatory With Beautiful Panoramic View
A well-designed conservatory can raise the price of your property.
A modern conservatory is an attractive way to open up your home to the outside world. Chill out, pull back the bi-fold doors on a fresh spring morning. Or, savour a delicious cup of coffee on a fall evening. Modern conservatory ideas provide a valuable living space to enjoy 365 days a year.
A modern conservatory ordinarily comes with a compact brick base. These can harmonise with your existing brickwork. Plus, a solid roof helps to insulate the property to maximise usage.
There are several benefits of a modern conservatory:
Exceptional Value

Elegant living area

Energy efficient

May boost property value
If you have any queries about our modern conservatory ideas, call our team on 01744 611 203.
Solid Roof To Keep The Heat In
The Victorian design in the picture aims to develop the area of the home, expanding the main living area. Plus, this design improves the natural light that enters the property. That is due to the charming round design. The full-length double glazing gives this customer a beautiful view into their stunning garden. Finally, the solid roof creates a more efficient extension to be used all year round.
Our extensions come with top-quality A-rated double glazing. That provides a thermally-efficient product with a scenic view of the garden. Regularly, our modern conservatory ideas come with Patio, French or bi-fold doorways. Though, if you are uncertain about which is the most suitable choice for your home, we have a team to help.
Design Styles
Some of our designs include:
Spacious Garden Room: These are a charming way to extend the area of your property. They can also provide a scenic barrier into your back garden.
Glass Roof: Glass roofs are a better way to embrace the sunny weather. It enhances natural light in the property and can improve insulation.
Edwardian Designs: The Edwardian style is a favourite that gives a lasting look. They are an ideal choice for a spacious living area.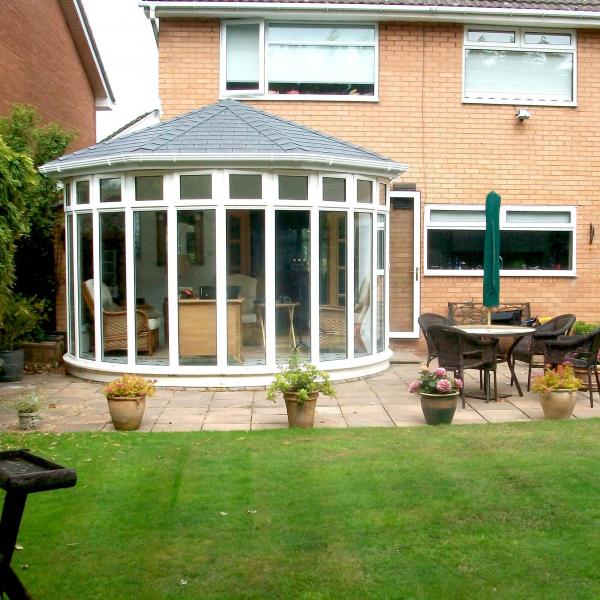 Choose From a Range of Doors
Get Your Free Modern Conservatory Brochure
Take a look at our conservatory brochure and get inspired for your home. We take pride in our customers' satisfaction and complete our jobs to a high standard. Besides, we provide a full list of products to give your home a classy feel. To get one of these brochures, fill in your contact details below. A member of our team will be happy to help.
Take A Look At Our Complete Range Of Conservatories
We offer a comprehensive list of conservatory styles to give your home a fashionable aesthetic.
Unsure About Your Planning Permission
Planning permission can depend on the size and design of a conservatory, and most don't require approval. Nonetheless, we have a professional team that can assist if you do. It usually depends on the area of the extension. Besides, if you aren't sure, our team will be happy to help.
RAL Colours To Suit
We have an assortment of RAL colours to suit your property. They can be either conservative or modern. Some of our customers recommended colours include anthracite grey, cream uPVC and standard white. Plus, if you want something to match your timber, we offer a variety of wood effects. That helps to generate a refined aesthetic.
Smart Door Options
Our modern conservatory ideas come with either french, sliding patio or bi-folding doors. They utilise our A-rated double glazing and can open out into your attractive garden. If you are looking for a different door, give our team a call. They will be able to talk you through our assortment of doors.
Bi-folding
These usually combine two sets of doors which fully open and fold away directly. Consequently, giving your home access to the outdoors.
Patio
Patio doors save space for your property to utilise space. They amplify light and allow the fresh summertime breeze in.
French
Offering several RAL colours, door styles and handles. French doors provide a modest entrance into the garden.
Start planning your future project