Modern Conservatories with Picturesque uPVC Windows
Increase the living space of your home with our modern conservatories.
Modern conservatories are an attractive option to expand the natural light in your home. Take the stress out of your home improvements with our trusted professionals. Plus, modern conservatories can provide a usable living space 365 days a year.
Our modern conservatories often come with a sturdy brick base. Furthermore, our team of fitters can colour match with your existing brickwork. A tiled roof can help maintain the heat inside the home, allowing you to get the most out of your new conservatory.
Benefits of modern conservatories:
Great Value

Spacious living area

Full insulation

Can raise the property value
If you have any questions about our modern conservatories, call our experts on 01744 611 203.
Picturesque Windows into the Garden
The Victorian design on the right aims to expand the living area of the home, extending a great view into the garden. This plan maximises the natural light that enters the house. That is due to the white uPVC double glazing. Ultimately, the A-rated glazing joint with the brickwork produces an energy-efficient room.
We regularly provide energy-efficient glazing to provide a practical extension with a view of the outdoors. Typically, our modern conservatories come with Patio, French or bi-fold doors. However, if you want something a little more unique, our team can talk you through all of our choices.
Popular Designs
Some of our designs cover:
Bright Garden Rooms: These are a subtle way to expand the area of your house. They offer a uniform separation from your back garden.
Sunny Glass Roofs: Glass roofs are a great way to enjoy the unpredictable British weather. It amplifies natural light in the house and can maintain insulation.
Spacious P Shaped: These are a smart design that gives you ample living space. They are an engaging choice for large properties.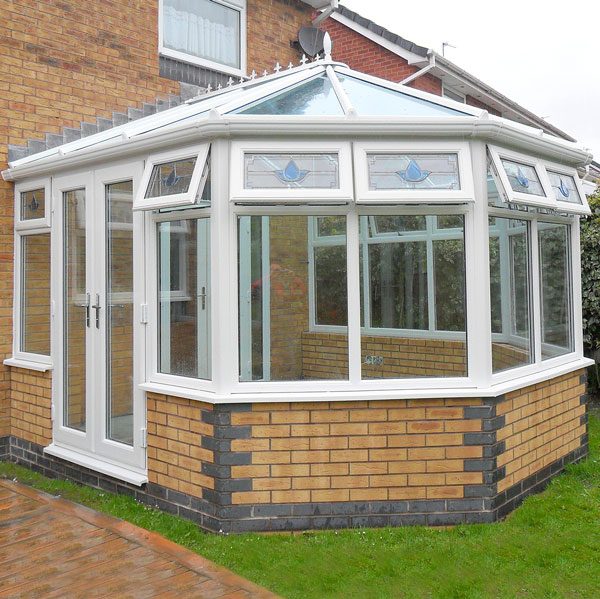 More Conservatory Designs
Get Your Modern Conservatories Brochure
Get inspiration for your home with our handy brochure. We take pride in our customers' satisfaction and complete our projects to a high quality. We also have a full list of products to give your home a stylish nature. To get one of these valuable brochures, fill in your details below, and we will be in touch.
Find Out More About Our Complete Range Of Conservatories
We offer a comprehensive list of conservatory styles to give your home a fashionable aesthetic.
We Can Help with Your Planning Permission
Planning can depend on many different factors. Most modern conservatories don't need permission. But if you do, we have an expert team that can help. Planning permission can vary from home to home, and if you are unsure, our team will be happy to help.
Stylish RAL Colours
We have a blend of RAL colours to suit your home. Whether you are looking for traditional or modern, we have a choice for you. Some of our favourites include slate grey, cream uPVC and white. Plus, if you want something to match your existing timber frames, we can match a variety of wood effects.
Intelligent Door Choices
Our modern conservatories usually come with either french, sliding patio or bi-folding doors. They can be aluminium, uPVC or timber and provide a gradual path to the garden. If you have a different design in mind, give our team a call. They will be able to talk you through our series of doors.
Neat Bi-fold
These are usually three panels which fully open and fold away neatly. Providing your home access to the outside.
Efficient Patio
Patio doors increase the usable space in your home by laying flat against each other. They boost natural light and are smooth to open.
Easy Open French
They come in a variety of colours, door styles and accessories. French doors offer a unique entrance into the garden.
Start planning your future project