Luxury Porch Accompanied By A Traffic Red Composite Door
A Cost-Effective All Year Round Porch 
The words luxury porch usually makes you think expensive but that is not always the case. At St Helens Windows, we create stylish and strong porches for your home. Modern builds sometimes come with porches built on the house. A luxury porch can produce a supplementary entrance or restroom to the front, side or rear of your property. Furthermore, porches create a unique appearance to your home too.
The Luxury Porch Idea
Porches come in various configurations. One of our recent designs, pictured here is a beautiful porch constructed with a solid tiled roofing system and an added downlights in the panels, allowing the lights to irradiate the door after sunset. Furthermore, we have a good selection of uPVC windows, providing natural light throughout. The porch has also been brick matched to create a natural-looking addition to the house. Complete with a Classical composite door in a Traffic Red colour, RAL 3020. The glass design is a Monza style. To inquiry about our luxury porch or a regular porch, contact our team on 01744 611 203 today.
Porch Designs
Understand what porch style you are choosing:
Traditional Brick: A porch is usually referred to as a small extension. Consisting of a half-brick build with PVCu windows on top to allow direct light in. 
Modern Side: These porches are usually found on more modest homes. The side porch manages to cover a large part of the side of the house, creating additional space.
Affordable Canopy: The canopy style porch frequently connects pillar with a canopy over an entry door.
Design the perfect room today, view our luxury porch ideas here.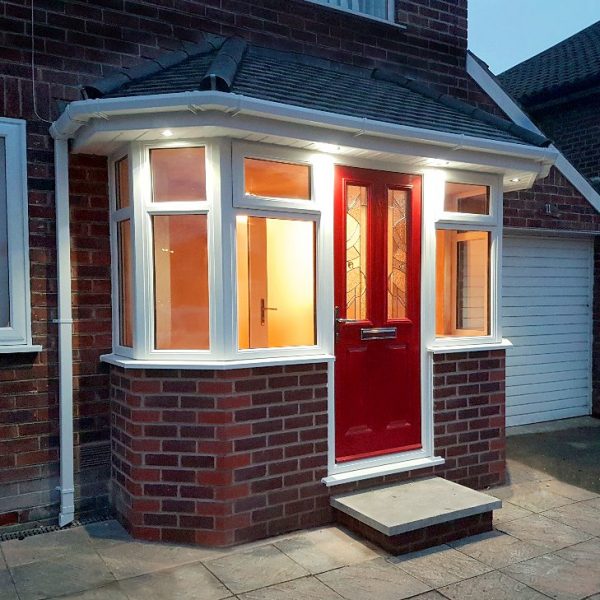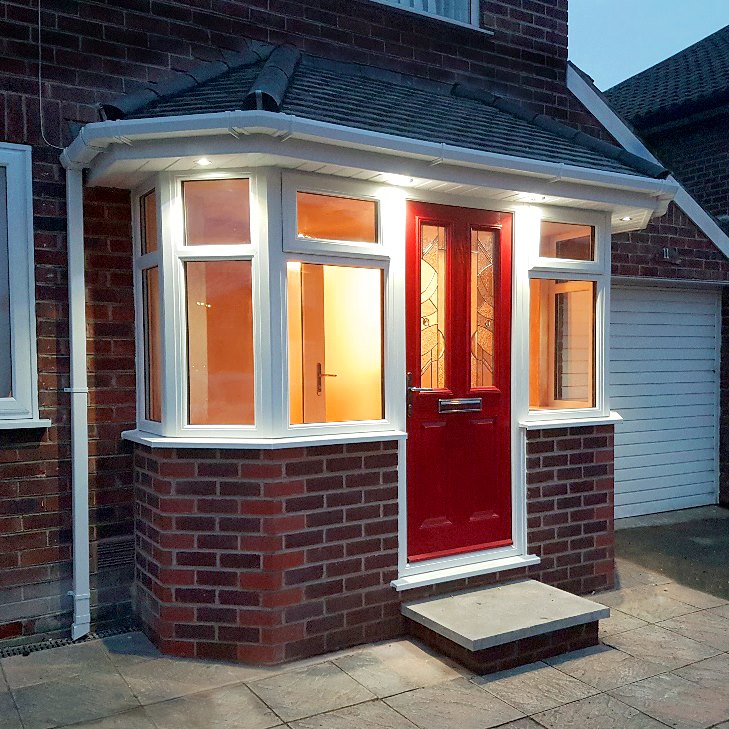 A Few Composite Door Trending Colours
Get Your Free Luxury Porch Brochure Today 
Browse through a FREE Porch brochure, packed with porch styles available. See different porches, from brick porches to uPVC porches. Furthermore, St Helens Windows offer a great choice of Home Improvement brochures with other ideas for your home. Add your name and email below to receive a brochure containing information and luxury porch ideas.