House Front Doors With Oak Effect And Eclat Design
Create a jaw-dropping entrance with one of our house front doors.
House front doors are an excellent option to improve the look and feel of your home. These stunning Eclat doors are a reliable option for your home and create an efficient barrier. Your entrance also enables you to add a stylish appearance to the front or rear of your property. Our specialist team have been providing home improvements for over twenty-five years, making us one of the top choices for you.
These house front doors offer enhanced security with a tough polymer subframe. Plus, they come with a repellent GRP cover and an energy-efficient core, which makes our composite door one of the most suitable options available. These stylish doors come with a variety of glass patterns, colours and accessories. That means you can create the perfect choice for your home.
If you have any questions about our doors, we have a professional team on hand to help. Call us on 01744 611 203 our team can clarify any questions that you may have, and even give you a free quote.
Oak Door With Three Piece Aspen Glass
The oak house front doors contrast elegantly against the customers' stylish brickwork. The Eclat design comes with a variety of glazing choices to allow different levels of light into the home. Plus, these new house front doors mix fashion, class and usability to produce a robust entrance.
Nearly all of our composite doors come with top-quality triple glazing. These systems include toughened rear safety glass and come with a choice of accessories. As a whole, our house front doors can minimise noise, giving you more relaxing living space.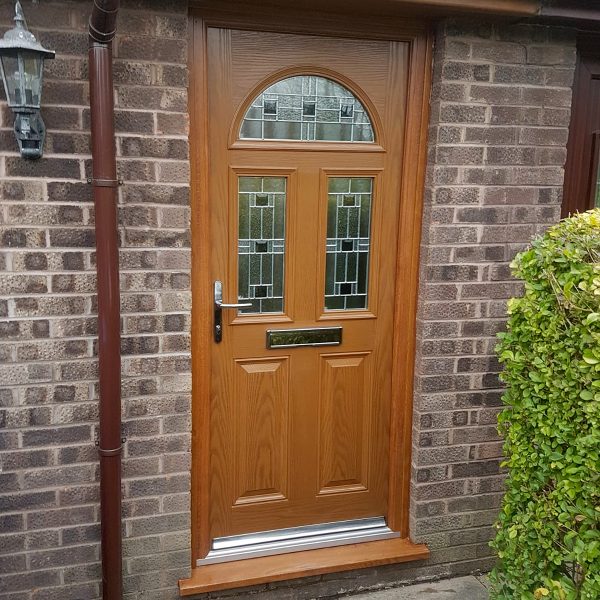 Learn More About Our House Front Doors
Compose the perfect entrance to your home with our stunning house front doors. If you want to see any of our options, check out our door brochure. To get one of these helpful guides, fill in your details below. Our specialist team will get back to you.
We always take the best care in our client links, so if you want to know more, or there is anything we can support with, get in touch.
What About These Door Styles
Take A Look At Our Complete Range Of Composite Doors
We offer a comprehensive list of door styles and colours to give your home a welcoming entrance.
Colourful Doors
The colour of your door can produce an outstanding look and set you apart from your friends. The oak here is a customer favourite that fits in well with this home, but it may not suit your style. We have a full list of colour choices for you. Some of our preferences include anthracite grey, azure blue and dusty pink. Yet, we have a colour to suit almost any home. Here are some of our picks.
Ornate Glass
The triple glazing given comes with a lovely variety of decorative patterns. This sturdy door is part of the Eclat range and creates a clean style with a distinctive three-piece window that draws in natural light. Plus, this triple glazing comes with 6.8mm layered glass as standard. The patterns can be individual to you, depending on the style that you choose.
Start planning your future project