Full Length Grey Window With A Five Panel Bow Design
If you are looking to modernise the look of your home, an anthracite grey window is one of the best options.
With nearly three decades of expertise, we are one of the best choices for your stylish grey window. Our robust frames combine with A-rated double glazing to provide you with a top-quality product. Plus, we create our windows in-house, supplying you beautiful window profile.
The bow window provides a timeless design that suits most homes. Plus, these windows are hardy and easy to maintain. That is why upgrading your bow window is a cost-effective option for you. The classic bow style bends out from the wall, giving you a stunning view of the garden. That expands the space of the home, giving you more space. 
If you want to know more about our grey window profile, our team are delighted to answer any questions. Call us on 01744 611 203 and start your free quote.
Energy-Efficient Windows
The bow window is a spacious design and helps to maximise the natural light in the home. Plus, the anthracite grey window fits in with the customers' sandstone red brickwork. To give the house a smooth look, the customer chose to replace both upstairs and downstairs. Furthermore, the client wanted an anthracite grey to renew the appearance of this home.
We deliver A-rated windows throughout the North West and connect the energy-efficient glass with the stunning VEKA profile. That, in combination with our trusted fitters, gives you one of the most dependable window profiles on the market.
Latest Window Ideas
If you want something a little different to our bow windows, we have a few designs that may suit you.
Bay: Bay windows give you a dramatic view of the outside and raise the level of natural light. They are comparable to a bow design with a squarer appearance.
Tilt And Turn: The tilt and turn profile is unique and has easier access indoors with a smart turn of a handle.
Casement: The casement style is a regular choice for grey window replacement in the UK. They are energy-efficient, sturdy and can help minimise noise pollution.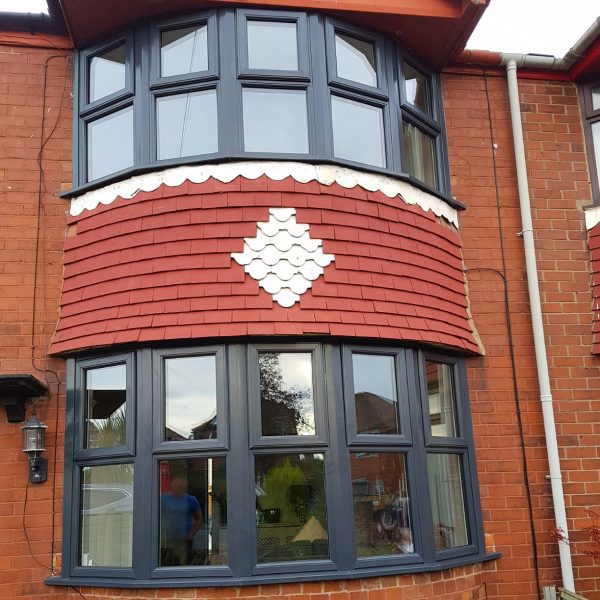 Find Out More About Our Grey Window Profile
Make your home stand out with a grey window. If you want to see our full collection of windows, check out our brochure. To get one of these guides, send us your details below.
Ultimately, we are always working to improve our customer relations, so if you have any home improvement projects, call our team.
Get The Home Of Your Dreams With New Bow Windows
Click to see our complete collection of bow windows and their benefits.