Esteem Grey Doors With Aspen Glass Design
Create a striking entrance with our beautiful grey doors.
Picking one of our stylish grey doors can renew the look and feel of your home is an attractive choice. These Esteem doors have a stunning design and provide an effective barrier for your home. Plus, your entrance allows you to combine your creative flair to the front or back of your house. That is why we are one of the most dependable door choices for you.
Our grey doors can improve security with its robust polymer subframe. Plus, they come with an impact-resistant GRP cover and an energy-efficient core. Our grey doors come with a combination of glass decoration and accessories, meaning you can design the perfect choice for your home.
If you like the look of these grey doors and have any questions, our team are happy to help. Call us on 01744 611 203 to get your FREE quote.
Aspen Glass With Silver Finish
The light grey colour complements the customers' dark red brickwork. Also, the tall two-panel glass design comes with a variety of decorative patterns to allow natural light into the house. Plus, these smart doors mix class, quality and usability to create a high-quality entrance.
Almost all of our composite doors come with three tough layers of glass. These doors add durability and come with a mixture of accessories in various colours. Plus, our grey doors can help to reduce noise, giving you more relaxing living space.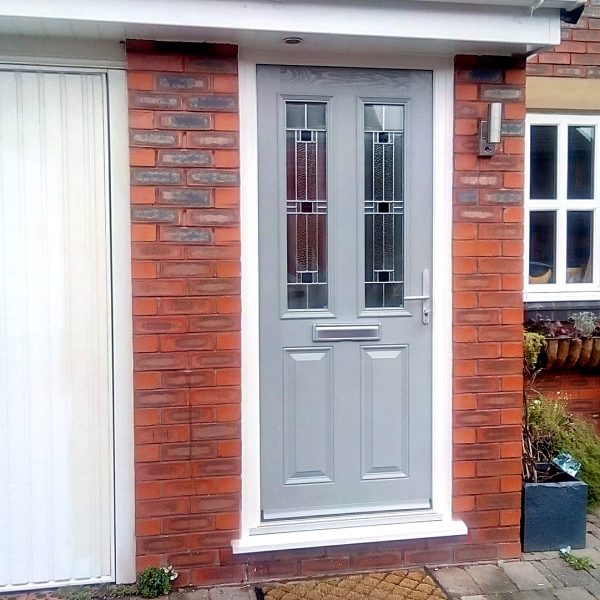 Find Out More About Our Range Of Grey Doors
Develop a stunning entrance to your home with one of our grey doors. If you want to see any of our other colours, check out our brochure. To get one of these guides, fill in the form below.
We are always working to improve our client relations, so if you want to know more or have any queries, call our team.
Choose A Style To Suit You
Take A Look At Our Complete Range Of Composite Doors
We offer a comprehensive list of door styles and colours to give your home a welcoming entrance.
Bright And Vibrant Colours
The colour of your door can produce an attractive look that will stand out among your friends. The light grey is a sound choice that fits in well with this home, characterised by an authentic woodgrain finish. However, that may not satisfy everybody's home. Therefore, we have a full list of alternatives available. Some of our top picks include slate grey, duck egg and honey beige. You can also have separate colours for the face and rear of your entry. So, why not try the light grey on the outside and a subtle white on the interior. Here are some of our suggested colours.
Each door can have a remarkable design, and we have a variety of ideas to start. If you want to build a whole door, we have a helpful door designer. Click here to start building.
Durable Double Glazing
The three layers of glass come with a stunning range of stylish designs. The customer here chose a beautiful Aspen glass, but the impressive Esteem door pairs well with the Savana and Monza designs. These contemporary doors create a unique style with a big two-panel window that draws in light. Also, this robust glass unit comes with 6.8mm layered glass as standard. 
Start planning your future project