Glass Extension with Fantastic Colour Matched Brickwork
Improve the natural light in your home with a high-quality glass extension.
A glass extension is a great way to improve the living space in your home. Secondly, our team can take the stress out of your renovations. A glass extension not only increase the living area but could also raise the value of your house. That is why our team are on hand to get started on your new conservatory.
Our glass extension usually come with a firm brick base. They can also come with full-length double glazing. Additionally, our team of fitters can colour match bricks to your home to create a well-rounded design. Glass is an excellent option to increase the light in your home and can lead to a more efficient property.
Advantages:
Cost-effective

Expansive living area

Well insulated

Can raise value
If you want to know about our glass extension, call us on 01744 611 203. Our expert team are happy to help.
Edwardian Design with Brick Base and White uPVC Finish
The glass extension on the right creates a well-insulated living space that maximises the homes lighting. The glass roof draws in light and efficiently directs rain away from the property. Finally, these plans blend style, beauty and functionality, making them an ideal choice for you.
We always fit energy-efficient glazing that provides a cost-effective glass extension with a view of the garden. Next, our conservatories come with Patio, French or bi-fold doors. But, if you are looking for something different, our team will be happy to discuss more options.
What About These Designs
Some of our popular plans include:
Garden Room: Opening up the rear of your house garden rooms are a beautiful way to enjoy the summer. They offer a smooth entrance into your back garden.
Solid Roof: Solid roofs allow you to enjoy your conservatory all year round. It insulates home and can offer a versatile workspace.
T Shape: These are a smart design that gives you a huge living area. They are a reliable choice for large properties. They can come with a variety of roof options.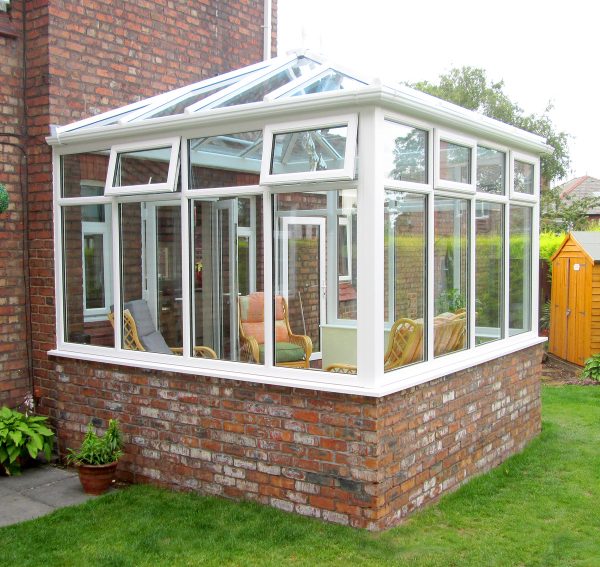 Learn More About Our Glass Extension
Design the perfect glass extension with a FREE brochure. We have a complete list of products to finish the look of your house. To get one of these brochures, fill in your contacts details below, our team will be in touch. Ultimately, we take great care in our customer connections, so don't hesitate to get in touch.
Find Out More About Our Complete Range Of Conservatories
We offer a comprehensive list of conservatory styles to give your home a fashionable aesthetic.
Why Do I Need Planning Permission?
Planning can depend on various factors. Yet, most glass extension plans don't need approval. If you do, we have a skilful team to assist. We understand that planning permission can be a stressful part of renovations, so we want to take the stress out of your hands.
A World Of RAL Colour
We have a mix of RAL colours to suit your home. Whether you are looking for conventional or contemporary, we have an option for you. Some of our hot choices include slate grey, cream uPVC and white. Plus, if you want something to suit your timber, we offer a variety of wood texture finishes.
Strong Door Choices
Our glass extension usually comes with either french, sliding patio or bi-folding doors. They come in uPVC, aluminium or wood and offer a path into the garden. But, if you want something a little offbeat, give our team a call. They can talk you through your choice of doors.
Fold Doors
Generally, three glass panels bi-folding doors open quickly and fold away neatly. Giving you passage to the outside world.
Slide Open
Sliding flat against each other, patio doors can increase the usable space of your home. They move on level guides, making them straightforward to operate.
Hinge Doors
The french doors come in a medley of colours, styles and accessories. They open central and can open outwards into the garden.
Start planning your future project