External Glass Doors With White uPVC Finish
Create the perfect gateway into your garden with our glass doors.
Our external glass doors can be unique and refresh the look of your home. These doors have a smart design and provide a thermally-efficient barrier. Plus, your garden door allows you to add imaginative flair to the rear of your house. That is why we have one of the best external glass doors for you.
Another reason to choose St Helens Windows is that our PVC and Aluminium is easy to maintain and are remarkably durable. To help you create the whole door, we can offer a mixture of glass decoration and accessories. Therefore, designing a solid door that you are proud to own.
If you like the look of these glass doors and have any questions, our team are glad to help. Get in touch on 01744 611 203 to get your FREE quote ready for up to 12 months.
Stunning Door Designs
The white PVCu fits in flawlessly with the customers' white roofline products. Plus, the elegant two-door design slides open into the customers' garden, making the outside much more usable. That gives these a mix of class, quality and usability.
We create our external glass doors in our St Helens factory. Therefore, meaning that each product is unique to the customer and ensures a perfectly fitted door. Plus, with our thermally-efficient glass, these glass doors can help to decrease outside noise.
Contemporary Door Styles
If a patio door isn't your style, we have a few options that could suit your home. 
Bi-Folding Doors: These usually consist of three glass panes. They collapse away effortlessly and give you an opening into the back of your property on hot summer days.
French Doors: A popular option that opens halfway outwards into the garden.
If you have any questions about any of our door designs and want to know more get in contact with our team. We can even start your no-obligation FREE quote.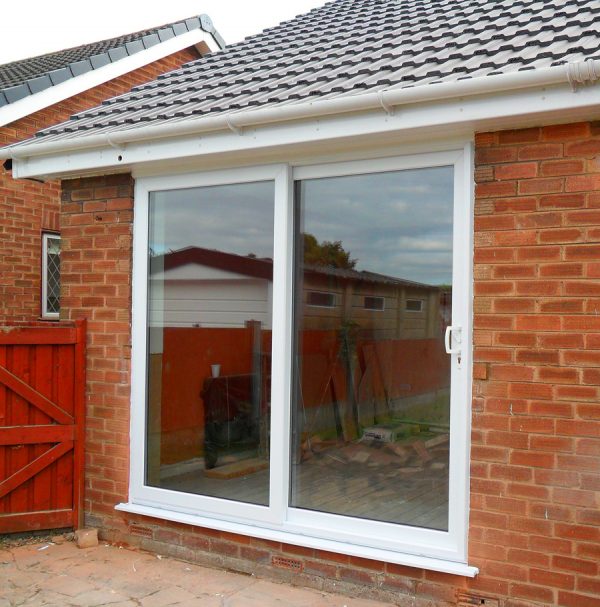 Choose From A Range Of Ornate Glass
Get Your FREE Door Brochure
Create a journey into your garden with external glass doors. Similarly, if you want to see any of our other door designs, check out our convenient brochure. To get one of these helpful brochures, fill in your details below.
We are always trying to improve our customer relations, so if you want to know more or have any inquiries, call our experts.
Get A Free Quote For Your New Set Of Doors
We have a team on hand to help with any questions that you may have about our French door choices.