French Arched Doors With Golden Handle
Create the perfect entrance into your garden with an arched door.
An arched door can be unique and renew the look and feel of your home. These doors have a contemporary design and provide an energy-efficient barrier. Plus, your external door allows you to combine your creative flair to the rear of your house. That is why we are one of the best French door options for you.
Our arched doors can boost energy-efficiency with its A-rated double glazing. Plus, both PVCu and Aluminium are easy to maintain and can refresh the look of your home. We can offer a combination of glass decoration and accessories, allowing you to design the perfect French arched door for your home.
If you like the look of these French arched doors and have any questions, our team are glad to help. Get in touch on 01744 611 203 to get your quote available for up to 12 months.
Door Suppliers Near You
The white PVCu fits in perfectly with the customers' curved brick opening. Also, the charming two-door design opens onto the customers' wooden patio, making the outdoors much more open. Plus, these fashionable doors mix class, quality and usability to build a robust door.
We manufacture French doors in our St Helens factory. Therefore, meaning that each product is individual to the customer and ensures a well fitted door. Plus, with our energy-efficient glass, these French doors can help to decrease outside noise.
Door Ideas To Suit You
If French arched doors aren't your style, we have a few alternatives that could suit you. 
Bi-Folding Doors: These modern doors usually consist of three glass panes. They fold away effortlessly and gives you the chance to open the back of your property up on those hot summer days.
Patio Doors: An appealing option if you enjoy moving between the garden and the house often. These doors glide behind each other and are one of the simplest to operate. 
If you have any questions about any of our door ideas and want to know more, get in touch with our team. We can even help you get started on a no-obligation FREE quote.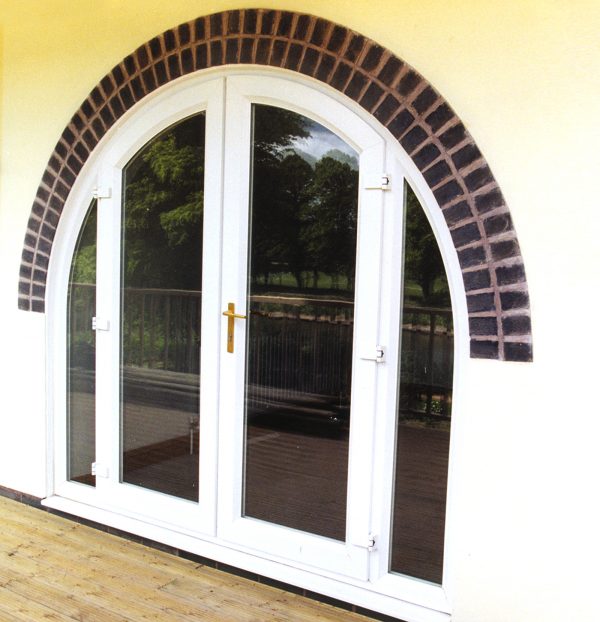 Choose From A Range Of Ornate Glass
Get Your FREE Brochure
Build the perfect barrier to your garden with a fantastic French arched door. Similarly, if you want to see any of our other collections, check out our convenient brochure. To get one of these guides, fill in your details on the form below.
We are always trying to improve our client relations, so if you want to know more or have any queries, call our experts.
Get A Free Quote For Your New Set Of Doors
We have a team on hand to help with any questions that you may have about our French door choices.