Give your home a thermally-efficient barrier with fascia boarding.
At St Helens Windows, we understand that an energy-efficient home is crucial. That is why we offer fascia boarding to our customers to ensure a fitting barrier. Therefore, you can be sure that we are a dependable choice for your home improvements.
Our fascia boarding, soffits and gettering comes in a variety of colours and sizes. Plus, they are low-maintenance and can give your home a finished look. That is why we are an excellent choice for your roof.
If you want to know more about our fascia boarding or our soffits and guttering, we have a team on hand to help. Call us on 01744 611 203 to get your quote available for up to 12 months.
Fascias, Soffits And Guttering
The customer here chose a white dry verge to complete the look of the home. The white is a complimentary colour that fits in with the customers guttering and windows. Furthermore, we properly install and seal our roofline products to improve the thermal efficiency of your home.
We have been helping with home repairs for over twenty-five years throughout the North West. That is why we recognise the importance of professionally fitted roofline products.
Choose The Right Roofline Products
If you aren't sure which roofline product you need, we have this list of our most popular products to help.
Fascia: Fascia Boarding is a straight board that connects to the bottom edge of the roof. The fascia supports the bottom edge and holds the bottom row of tiles.
Soffits: A soffit normally meets to the bottom of the fascia and provides an additional covering to the underside of your roof.
Gutters: The guttering is the system that efficiently draws water away from the property and into the drainage.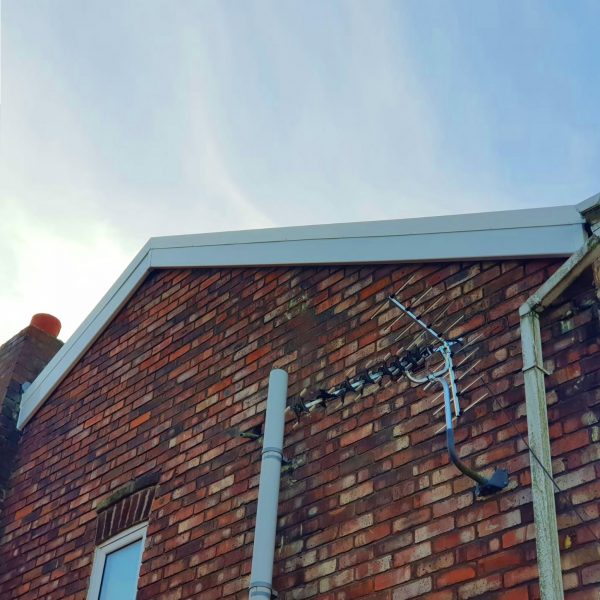 See Our Full Range Of Fascia Boarding
Fill in the form below to get one of our roofline brochures, full of inspirational designs for your fascia boarding. We have a full range of colours, styles and materials to match your property.
Lastly, we are always trying to improve our client relations, so if you have any queries or need direction, call our expert team.
Find Out More About Our Complete Range Of Roofline Products
Click to see our complete collection of roofline products and their benefits.