Solid Conservatory Roofing With Open French Doors
Expand your home with a well-insulated conservatory roofing.
Expand the living space of your home with our handy solid roof conservatories. We have a team to take the stress out of your conservatory roofing. Our extensions not only increase the usable area but can also raise the value of your home. That is why our team are on hand to get started on your home improvements.
Our conservatory roofing tends to come with a hard stone foundation. Yet, we can also offer full-length glazing to create an exclusive extension. To give your home a well-rounded aesthetic, our fitters can colour match bricks to your house. That is why conservatory roofing is an ideal choice to get the most out of your extension.
Advantages of conservatory roofing:
Value for money

Large living area

Energy-efficient

May increase in value
If you want to know more about our conservatory roofing, call us on 01744 611 203. We are always happy to help.
Rectangular Conservatory with Large French Doors
The extension here forms a well-insulated space that improves the homes natural lighting. The solid conservatory roofing enhances insulation and directs rain away from your home. Ultimately, this plan mixes style, grace and functionality, making them a perfect choice for you.
We always use high-quality double glazing that offers a great view of the garden. Plus, our extensions tend to come with Patio, French or bi-fold doors. Yet, if you are looking for something distinguishing, our team will be happy to take you through more options.
We Have A Variety Of Conservatory Styles
Some of our plans include:
A Garden Room: Garden rooms brighten up the rear of a home, allowing you to enjoy the summer months. They offer a calm entrance into your garden.
The Solid Roof: A Solid conservatory roofing allows you to enjoy your extension all year round. It shields the home and can offer a versatile room.
Modern T Shape: These are a bold design that gives you a spacious living area. They are a solid choice for large properties. Plus, they can come with various conservatory roofing.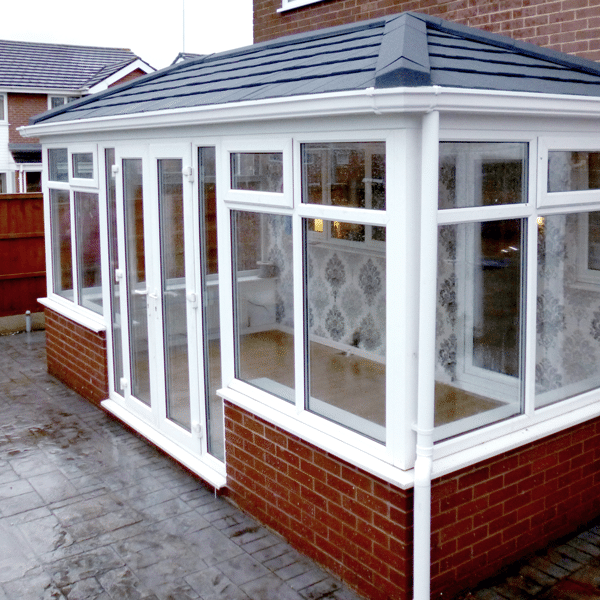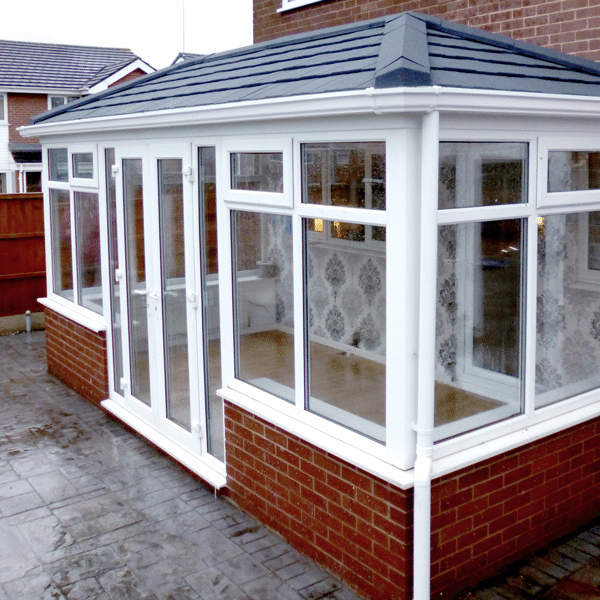 Learn More About Our Solid Conservatory Roofing
Create a beautiful conservatory with our FREE brochure. We have a full list of products to improve your home. To get one of these brochures, fill in our contact form below, and our conservatory roofing team will be in touch. 
Finally, we take outstanding care in our client relationships, so if there is anything that we can do, get in touch.
Find Out More About Our Complete Range Of Conservatories
We offer a comprehensive list of conservatory styles to give your home a fashionable aesthetic.
When Should I Get Planning Permission?
Planning can depend on several factors and can be a legal necessity for many homes. Yet, most extensions don't need permission. Though, if you do need it, we have a skilful team to assist. We know that planning permission can be a stressful part of improvements, so sit back, relax and let us deal with it.
Brighten Your Home With RAL Colours
We have a selection of RAL colours to suit your home. Whether you want regular or modern, we have a scope of choices. Some of our customer favourites include slate grey, cream uPVC and Chartwell green. Also, if you want something to resemble your timber, we offer a selection of wood texture finishes.
Choose The Perfect Door
Our extensions usually come with either french, sliding patio or bi-folding doors. They come in uPVC, aluminium or wood and offer a pathway into the garden area. Still, if you want something a little more striking, give our team a call. They can talk you through our full range doors.
Bi-Folding Door
Usually, three glass panels bi-folding doorways open quickly and fold away precisely. Giving you a bright entrance to the outside world.
Sliding Patio
Sliding smooth into over each other, patio doors can maximise the usable space of your home. They move on runners, making them easy to open.
French Door
The french doors come in a combination of colours and styles. They open in the centre and open into the garden.
Start planning your future project