Composite Arched Doorway With Espirit Design
Give your home that much-needed kerb-appeal with a stunning arched doorway.
An arched doorway can give your home a bespoke apparel. These stunning Espirit doors are a customer favourite and create an energy-efficient barrier. Furthermore, your arched doorway will create a unique talking point amongst your friends and family. That, combined with over 25 years of experience, makes us one of the best choices for your door.
These outside doors offer improved security with a robust polymer subframe. Plus, they come with an impact-resistant GRP cover and an energy-efficient core. Furthermore, these smart door choices come with a variety of glass decoration, colours and accessories. That means you can create the perfect door for your home.
If you have any questions about our doors, we have an expert team on hand to help. Call us on 01744 611 203, our team can answer any inquiries that you may have, and even give you a FREE 12-month quote.
Beige Arch With Complimenting Door
The arched doorway provides a stunning entrance that contrasts beautifully against the customers' black composite door. Plus, the curved fanlight draws in additional light into the property. These arched doorway designs mix fashion, class and usability to produce a reliable entrance.
Nearly all of our GRP doors come with top-quality triple glazing. These units include toughened safety glass and come with an excellent choice of decoration. As a whole, our arched doorway can decrease noise, giving you more relaxing living space.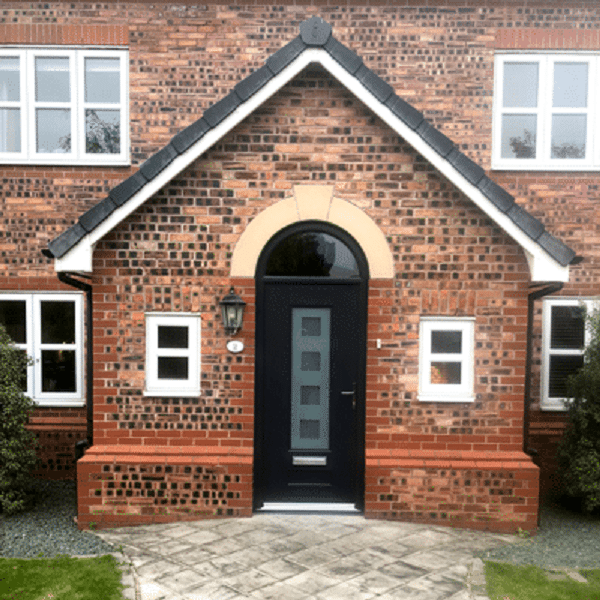 Learn More About Our Arched Doorway
Design the perfect entrance to your home with our stunning arched doorway. Also, if you want to see any of our alternatives, check out our brochure. To get one of these helpful brochures, fill in the form below. Our specialist team will get back to you.
We always aim to take the best care in our customer relations, so if you want to know more, or there is anything we can help with, get in touch.
Take A Look At Our Complete Range Of Composite Doors
We offer a comprehensive list of door styles and colours to give your home a welcoming entrance.
Start planning your future project