Why Choose Porches From St Helens Windows?
Porches are a great way of providing extra space and an additional layer of security to the front of your home. Modern porches come with various door choices, a variety of window options and a variety of tiled roofs to match the design and existing look and feel of your home. Porches add a distinguished look to homes but they can further increase your properties' energy efficiency which produces a more energy-efficient home helping to probable reduce the expense on energy bills. Furthermore, if you require planning permission for your porch. St Helens Windows can take care of this for you for an extra fee. One of our Home Improvements Adviser will be delighted to talk through this with yourself.
Additional, we have over 2 decades of expertise in manufacturing, supplying and building porches which means our professional team can help to create a safe and excellent designed porch for the entrance of your home. Select from an extensive range of porch ideas, brickwork choices, door selections and coloured uPVC frames.
Additionally, we make it an easy process for you to design your dream porch. The Home Improvement Advisor will visit your property and provide expert advice and information on your porch or project specifications. The Home Improvements Advisers will give you the options of several door colours and styles, glass design choices plus a choice of decorative effects. These include roof tile options and brick matches, enabling you to own the unique porch you have always wanted so once you have settled on your project necessities. Our Home Improvement Advisor will provide you with a complimentary no-obligation quotation.
Benefits Of Owning A Porch
Porches Add More Security
Adding a new porch to the front of your home offers an additional layer of security, helping to deter intruders. Furthermore, with the use of double glazed units with the option of toughened glass and an ingenious locking system, you can feel more secure knowing that the front of your home has an extra layer of security with a new porch.
Porches Made For You
Porches from St Helens Windows are made to measure. The Porches are created to complement your home and built for a perfect fit. Our Company design bespoke porches to match the style of any home and your individual choice. 
Furthermore, we offer a wide range of varied roof tile styles to choose from including the stylish solid tiled roofs. Our roofing options are created so your porch can stand out or blend into your homes existing roof. We additionally manufacture a large selection of glass verandas, contemporary verandah collection or a bespoke veranda of your choice.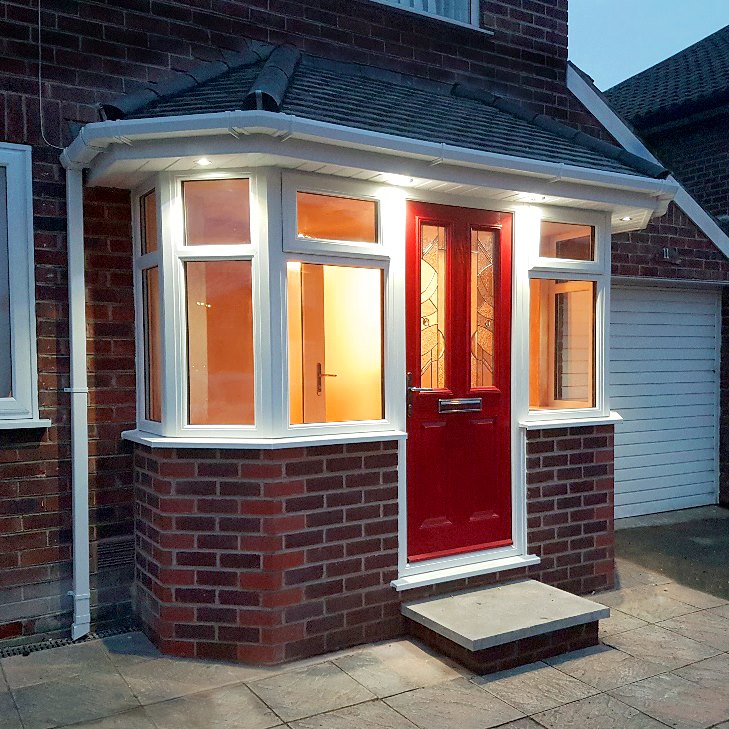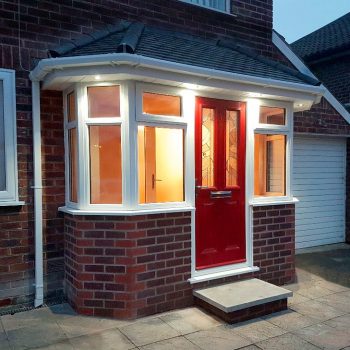 Extra Space with a Porch
Porches can provide an exceptional way to cater for more than just looking great and gathering mail. Any small porch extension on the front of your home can be utilised for more than additional security. It can be useful for storing shoes, boots, coats and even a place to dry your pet. At St Helens Windows meeting your porch requirements are something we strive to achieve, along with creating your dream porch just for you.
Porch Benefits Overview
Extra space
Added security
Low maintenance
Made to measure
Kerbside appeal
Porch Doors Choices
Composite Doors
UPVC Doors
Rock Doors
Patio Doors
French Doors
Porch Colour Choices
Oak Porch uPVC
White Porch uPVC
Chartwell Green Porch uPVC
Black Porch uPVC
Dark Brown Porch uPVC
Let's Discuss Your Porch Or Canopy Requirements...
Book a FREE appointment – Send us your preferred day and time online today.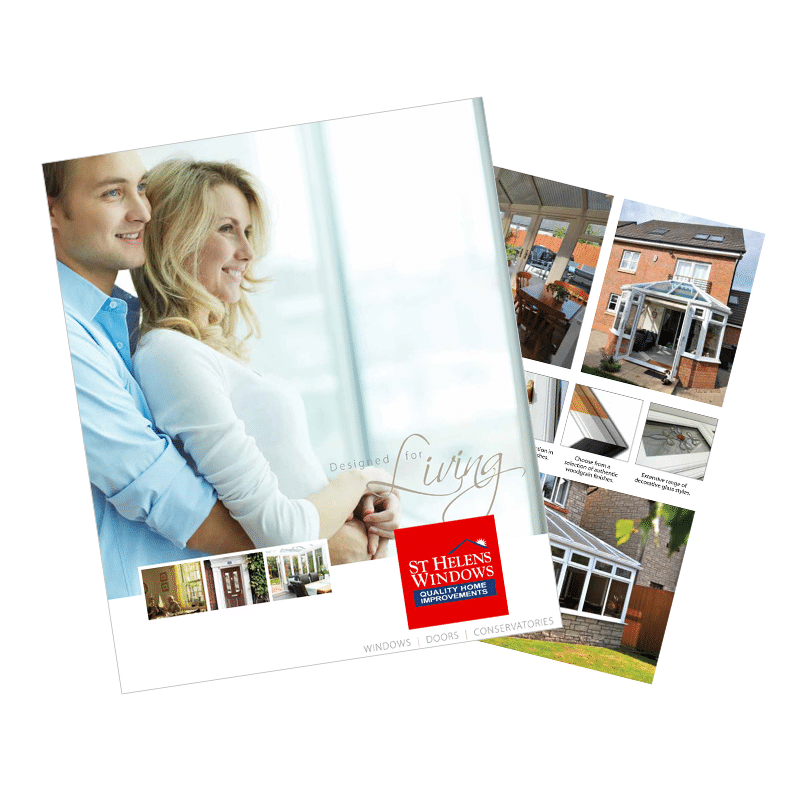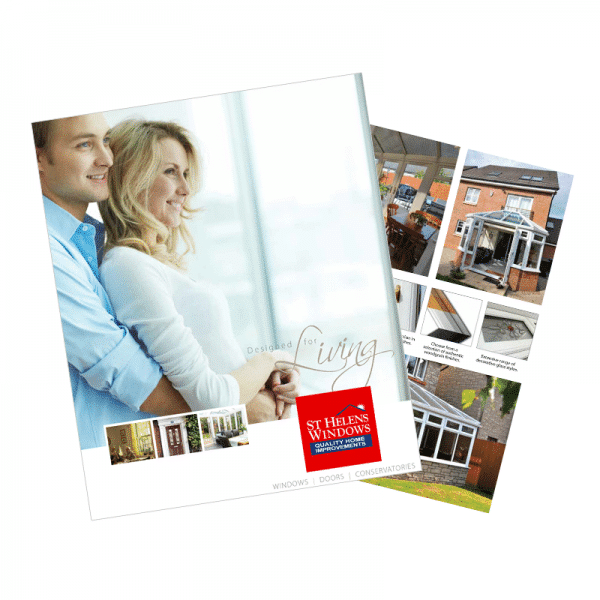 Request your FREE Porch brochure today…
Relax and discover various designs for porches in our comprehensive brochure. This comes complete with porch for front door ideas. It also includes a variety of uPVC porches and the perfect porch for your home. Find the right porch door and porch ideas UK in this FREE brochure.
Canpoies Tailored To Your Needs
Canopies are obtainable in a wide assortment of styles and designs. Including a traditional canopy range to the modern-looking canopies. 
St Helens Windows, manufacture and supply various canopies ranging from the front entrance canopy to the full exterior bay canopy.  The strong, durable and long-lasting materials used to manufacture and build canopies gives you total peace of mind. All canopies are bespoke to your property. This gives your home that added kerb appeal.  The company produce affordable canopies tailored to your requirements and your budget.
Learn more about our stylish uPVC Porches and Canopies. Check out the fantastic offers available here get in touch.  To inquire about a porch installation cost just call the team on 01744 611 203. A member of the uPVC Porches Team will be happy to assist you. We are a FENSA registered company.

Bespoke Porch Features

Distinctive Styles
Individual Designed
Colours and Glass Options

UPVC Porches Made Easy

Helpful Advice
Accurate Quotes
Expert Installation

PVC Porch Quality

Energy Efficient
High Performance
No.1 Windows System
Our Customer Testimonials
Customer service is something we pride ourselves on. And we think our customer's testimonials express their experience with us.
5 out of 5 stars (based on 18 reviews)

Would recommend St Helens Windows, Keiron has fitted all our Windows, Sliding door and Composite door, they have done an amazing job, I am absolutely delighted with them and such a lovely friendly young man we are very satisfied thanks Keiron and St Helens Windows have done a very professional job.
5 out of 5 stars (based on 18 reviews)

St Helens Windows deserves a five-star review! Their quote was the best and at every stage, from foundations, the building of porch and finishing touch the work was done very professionally. Dates were kept and information conveyed clearly. Any queries I had were always answered promptly. The porch is superb and we could not be more pleased. I would highly recommend them.
5 out of 5 stars (based on 18 reviews)

Just wanted to let you know that Stefan has been so good today. Very tidy and helpful. Minimal fuss and hasn't stopped. He's still here but thought I should let you know the positive feedback about his approach.
Start planning your future project