Decorative Bow Window Pane With White PVC Finish
Update the look of your home with a decorative window pane.
At St Helens Windows, we understand that a decorative window pane can be an excellent choice to boost the energy-efficiency of your home. That is why we link our VEKA profile with A-rated glazing to provide you with one of the most reliable window profiles on the market. Plus, we hand-build our windows in our factory to give you a perfectly fitted window.
We have a range of decorative window pane styles and colours to suit almost any home. Plus, our frames are low-maintenance and easy to clean. Therefore, making us one of the best window pane profiles on the market. 
If you want to know more about our decorative window pane, we have a team on hand to help. Call us on 01744 611 203 to get your complimentary quote.
Efficient Windows
The customer here chose a charming bow window design with a striking ornate window pane, to increase the energy-efficiency of your house. Plus, the traditional white uPVC windows are a safe choice for most homes. That is due to the contrast against the customers' sandstone brickwork.
We have been providing home improvements for over twenty-five years throughout the North West. That is why we appreciate the importance of professionally fitted windows and doors.
Choose The Right Window
If you aren't sure which is the right idea for your home, our team have a variety of designs to suit you.
Bay: The bay design is comparable to the bow window and gives you a striking view of the outside and boost natural light.
Tilt And Turn: The tilt and turn window is a contemporary design that is easy to open with the turn of a handle.
Casement: The casement style is a regular choice for window replacement in the UK. They are durable, efficient and can reduce outside noise.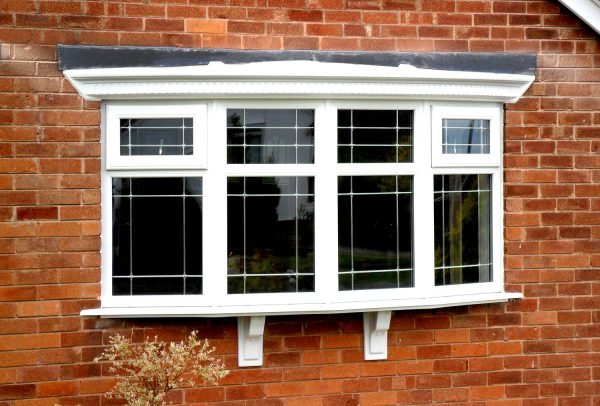 Traditional Window Designs
See Our Window Pane Choices
Fill in the form below to get one of our handy brochures, full of inspirational ideas for your home. We have a full range of colours, styles and accessories to match your design.
Finally, we are always trying to increase our customer relations, so if you have any queries or need advice, call our team.
Stay Insulated With Our Casement Windows
Click to see our complete collection of casement windows and their benefits.